Also, here's why Shelby American, Inc vouches for Nextiva. Hint: Exceptional customer experience and technical support.
1) "Nextiva's one of the best VoIP providers we've seen!"

2) "Nextiva makes our life easier."

3) "We love the Nextiva system, and I personally love my softphone!"

4) "Great experience till date."

5) "I would highly recommend this service."

Top reviews from Capterra
Concordia Care Inc. loves that we're HIPAA compliant and is a fan of the Nextiva App. See why >>
6) "Amazing service and platform."

Pros:
– Increased support staff productivity and better customer relations
– Fast setup and quick onboarding
– Amazing tech support from Nextiva's service team
– Cost-effective, but feature-rich
Cons: None
Overall: Highly recommends Nextiva for their overall ease of use and customer support.
7) "Nextiva's support team made a tough transition easy."

Pros:
– Offers a complete solution based on a business owner's needs
– Full-stack solution that's highly flexible
– Easy to use and cost-effective
Cons: Limited integrations
Overall: Happy with Nextiva's platform, costs, functionality, and timing.
8) "Full service and software solution."

Pros:
– The Nextiva sales team took the time to understand our business and help us work out what we needed
– Has the services we need at a price we can afford
– Easy to upgrade in the future if required
Cons:
– Staff training was time-consuming especially because we weren't fully prepared for it
Overall: Even after implementation, Nextiva continues to be responsive and helpful.
9) "A great software partnership!"

Pros:
– Great solutions for business communications and office enterprise tools
– Customer support is amazing
– NextOS is advanced and powerful
Cons:
– None
Overall: Once you partner with Nextiva, you get the impression you're being brought into something much bigger. It's really exciting and fun too.
10) "Nextiva delivered for our business."

Pros:
– All phone calls have been crystal clear — no call drops
– Easy to use
– Onboarding was smooth and easy
Cons:
– Small delay to port numbers
Overall: Would recommend
Have you tried NextOS 3.0 yet? Well, the Children's Museum of Phoenix did, and this is what they think.
11) "It's everything we need for business communications!"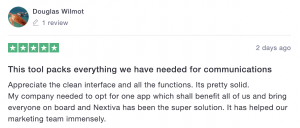 12) "A solid choice for a simple and safe VoIP system."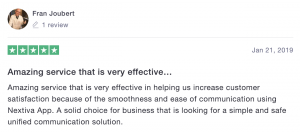 13) "A great communication tool!"

14) "Thanks to Nextiva, we're learning more about our customer relations."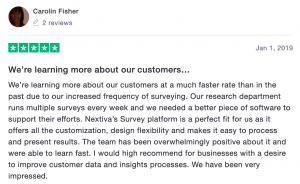 15) Nextiva's Live Chat is nicely designed, stable, and easy to use."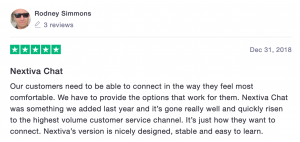 16) "Making the switch to Nextiva was easy."

17) "We reduced response times and hold times."

18) "Nextiva's reporting helps us manage our staffing better."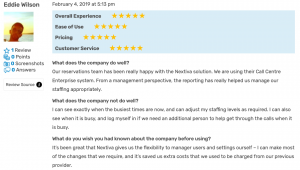 19) "Nextiva's reporting is incredible!"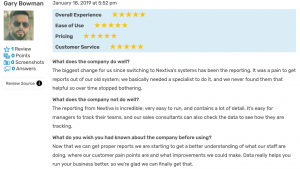 20) "Nextiva Chat makes it so much easier to talk to our customers."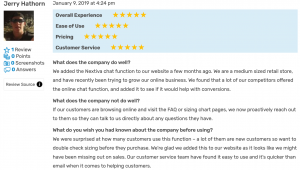 Nextiva's products and services:
Nextiva's unique VoIP phone system is for everyone and also specifically, small businesses. For example, Nextiva's Business Communication Suite has three-tiered pricing.
Basic (starts at $20 per month/user), Pro (starts at $25 per month/user) and Enterprise (starts at $35 per month/user.)
Our feature-rich business VoIP phone service and other cloud solutions are also ideal for:
Related: The Ultimate Business VoIP Phone System Buyer's Guide
But wait, there's more

While our products work well alone, they work even better together. How? Introducing NextOS. It's the technology that powers our all-in-one communications platform. There's no better place to get a pulse of your customer experience.
Want to see what NextOS can do for you? See our bundle plans and pricing here.
Nextiva's Business Phone System: Plans and Pricing
When it comes to choosing your business phone system, there are several questions you may have:
And so, to make things easier for you, our three-tiered pricing breaks down exactly what features you'll get on what plan.
Basic – As low as $20 per month/user
Unlimited calling and SMS messages/Internet faxing
Voicemail with email delivery + text delivery
Free local phone number + toll-free number
Call forwarding
Auto attendant
Numer porting
Advanced call management
Pro – As low as $25 per month/user
All of the above
Professionally Recorded Greeting (1)
Nextiva mobile app
Instant messaging & presence
Team messaging & presence
Conference bridge and unlimited conference calls
Customer Surveys (NEW with Pro)
Enterprise – As low as $30 per month/user
All of the above
Call recording
Website Live Chat (NEW with Enterprise)
See How Nextiva May Work for You
Choosing a whole new business phone service is no joke. But maybe it's time to break up with your landline, especially considering how much you'll save in terms of setup time and upfront costs.
Make sure you and your team truly understand how VoIP phones work and how it stacks up against landlines before you make a move.
Related: Meet our customers and see how Nextiva helps them get ahead in 2019.
Nextiva is perfect for those businesses that need a complete UCaaS solution. When you sign up, you'll also get custom configurations and on-demand support. Beyond this, we also offer PBX SIP trunking as well as Nextiva Drive for cloud storage.
Don't just take our word for it! See more Nextiva reviews from Conan, West Coast Trial Lawyers, and Bauformat say about us.
Like what you see here? There's more! Let's get you started.