Posted on: September 23, 2019 By: Carolyn Kuczynski
Imagine the day when every car on the road will be able to handle all aspects of driving without assistance. It won't be long. Artificial Intelligence (AI) is driving autonomous technologies that are helping enterprises, industries, and the human race innovate our way out of much of the work we do today.
AI is about to make everything self-driving.
Soon, all networks will be agile, self-healing, and self-optimizing, serving up the right bandwidth at the right time for perfect cloud application performance. Security strategies are already leveraging AI to automate the response to cyber threats. The result: a sense of true freedom for IT teams to focus on the next big innovation.
With a clear vision of autonomous networking, Masergy is making significant strides in being among the first companies to start delivering the self-driving networks of the future. This week, we made a giant leap forward, announcing enhancements that are pushing the boundaries of automation. Released today, Masergy AIOps is the network service industry's first AI-based network automation solution that will transform IT management and application performance as we know it.
But to understand how Masergy is delivering the future today, it helps to first examine the next steps necessary in arriving at autonomous networking.
AIOps: The Guidepost to Autonomy
The path to complete autonomy starts with a wide sweeping digital vision. First, the network must provide complete visibility into performance characteristics, application traffic, user traffic, and the design of various components. The next step in creating autonomy is to apply AI-based technologies, where behavior analytics and machine learning algorithms can more fully automate network management and application optimization. Gartner refers to this concept as "AIOps," defining AI for IT operations as the application of machine learning and data science to IT operations problems.
Analysts believe the long-term impact of AIOps will be transformative for IT teams. According to Gartner, "organizations that automate more than 70% of their network change activities will reduce the number of outages by at least 50% and deliver services to their business constituents 50% faster." With payouts like that, it's no surprise that analyst Andrew Lerner advises IT executives to prioritize network automation investments in 2019.
AIOps solutions are new in the marketplace. But before we get into the details of Masergy's offering, we should explore how AIOps platforms work.
Applying AI to Build a Self-Driving Network
AIOps platforms have the power to act as virtual assistants, and more specifically, digital network gurus. However, these gurus work 24/7, never sleep, and can ingest and analyze big data at nearly the speed of light. Aggregating real-time network activity, historical traffic, configuration settings, and usage, AIOps platforms generate contextual intelligence and help eliminate human errors that are still the root cause of most service degradations and outages today.
Through behavioral analysis and machine learning, AIOps can identify patterns, processes, and trends, making predictions about bandwidth needs and offering recommendations to solve age-old IT problems. With feedback and maturity, these solutions are used to design rule sets, policies, and playbooks that govern in unmanaged environments that are truly autonomous. Mature platforms can make all the difference. Advanced solutions with a library of specialization in AI practices and network optimization rulesets quickly move beyond the first steps of data aggregation and analysis with the ability to act on recommendations autonomously. This is where Masergy is headed.
It's also important to note that not all IT infrastructures are designed for AI innovation. The underlying network must have a software-defined architectural model that supports real-time flexibility, big data collection, and secure analytics at speed and at scale. Networks that were architected for a previous era will likely never have AI-based enhancements. Meanwhile, Masergy's software-defined network and cloud platform was built from the ground up for this type of innovation, and we're aggressively forging the path toward autonomous networking.
Introducing Masergy AIOps
As I mentioned, Masergy AIOps is the network service industry's first AI-based, digital assistant for network, application, and security optimization. Masergy AIOps is an intelligent assistant that actively serves customers as a network engineer, supporting administration and optimization. With our 20-year history in global software-defined networking, Masergy has incorporated decades of network management experience in designing the most sophisticated AI network application.
This initial launch marks the beginning of autonomous wide area networking for Masergy. We expect to deliver enterprise customers fully autonomous networking in the next few years, and Masergy AIOps is the first product release moving us firmly in the direction of this vision.
With autonomy in reach, we should be clear about what Masergy's AIOps solution can and cannot do today. The solution applies machine learning and behavior analytics to the network, but it is not yet self-driving. Our next phases of development will focus on automated decision making and response. Right now, it's a virtual analyst and advisor. Here's what it can do today.
Capabilities and Benefits Today
With this initial release, Masergy customers receive intelligent alerts and recommendations for network changes that can increase performance and cloud application optimization–regardless of whether those apps are operating on private infrastructure or utilized across the public internet. Acting as a virtual assistant, Masergy AIOps analyzes how the network, application performance, and security are impacted by different events including various configurations and utilizations. The system then makes recommendations to enhance application performance, predict bandwidth needs and optimize network throughput based on anomaly detection and predictive analytics.
Key Features of Masergy AIOps
Intelligent analysis and recommendations to optimize multi-cloud environments
Sophisticated pattern recognition algorithms leveraging big data
Predictive anomaly detection with actionable insights
AI tools embedded in the customer portal–Masergy's Intelligent Service Control
Expandable use cases for proactive network, application, and security optimization
Masergy AIOps Makes the Following Recommendations for Customers
Which path an application should take, based upon performance
When and where to add bandwidth, including cloud vendors
Network changes and configuration settings to optimize application performance, based on business needs and service priorities
Customer Benefits
Reduce noise from bandwidth usage alarms, based on static thresholds
Gain continuous 24/7 analysis across the network, application performance, and security
Get best-practice recommendations and actionable insights for performance optimization
Increase service quality and reduce business continuity risks with predictive algorithms
Quickly identify the probable cause of network service incidents
Decrease the number of support calls and lower IT costs
Exclusively Unique: AI Inside Your Network Management Portal
We did some competitive research and found that no other network service providers advertise AI-based network intelligence solutions as of today. Thus, Masergy is likely the first to deliver this capability to the network services market. While other AIOps solutions exist, our research found that they are largely point solutions with their own management portals. This means customers get AI analytics and recommendations in a separate portal that must be integrated into their network and IT environment.
We believe Masergy stands exclusively unique in this aspect: Today, no other network services provider offers a holistic approach that deeply embeds AI into a global software-defined network, making AI intelligence available directly within the existing management portal. In the digital age, this IT simplicity is fundamental. With Masergy AIOps, every Masergy customer now has a significant increase in the value of their network.
Autonomous networking is just around the corner, and as a 20-year pioneer in software-defined networking, Masergy can help you transform with certainty.
Watch the Masergy AIOps video, read the full product announcement and contact us for a free consultation, including a demonstration of Masergy AIOps and our SD-WAN management portal.
Posted on: September 19, 2019 By: Carolyn Kuczynski
90% of the time hackers deliver their malware through an email. If you've followed any cybersecurity stats, you've probably already heard this one from the 2019 Verizon Data Breach Investigations Report. So why do cybercriminals use email? Because they don't have to search around to find a vulnerability in a website or software. Phishing is a simple, direct approach that doesn't take much time. Hackers don't even really have to be tech savvy to send phishing emails. They can buy tools online for as little as $2 and send emails to an infinite number of potentially unsuspecting people.
Cybercrime is all about finding vulnerabilities. Cybercriminals have an easy time finding the vulnerability in humans. Humans who are moving fast through emails, trying to get their jobs done. And humans are generally pretty trusting. As Nick Espinosa says in his Five Laws of Cybersecurity TedX talk, "Humans can trust when they shouldn't." His audience saw this first hand when Espinosa asked everyone to look under their chairs for something that was placed there. Everyone bent over, felt under their seats until Espinosa let them off the hook saying that there's actually nothing under their chairs but hey, you all believed me, right?? Point taken.
But most of us know how to identify a phishing email at this point, right? This stuff is all over the news. We get it! Well, the data says we don't get it. Because if we did, 90% of breaches wouldn't be coming from email.
Phishing emails and websites can look real. Really real. It can be very difficult to tell that the email you just received isn't actually Amazon asking you to verify your purchase. You just bought some tube socks on Amazon last week! Outlook needs you to click here for the software update? Makes sense. Software has to be updated! Isn't it actually unsafe to not update software??  Krebs on Security reported a while back that half of all phishing scams are now hosted on websites whose Internet address includes the padlock and begins with "https://", like the scam PayPal site image below. So not only do the emails and websites look legit, some of the clues we were taught to look for don't work anymore.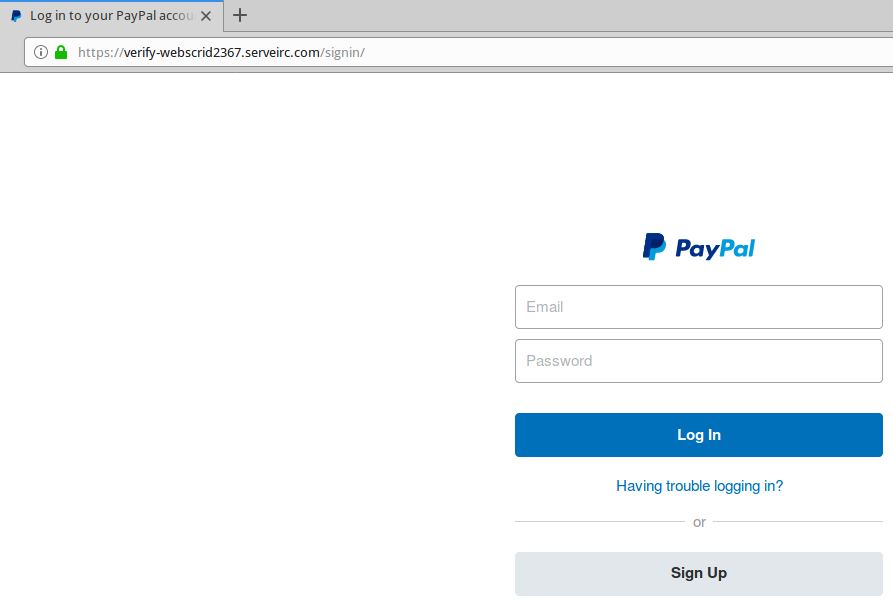 If it's so difficult to tell real from fake, then what do I do to protect my company?" you may be asking yourself. This is where employee education comes in. But before we start that, it's a good idea to get a baseline to see how well your  company's employees recognize a phishing email and website.
A baseline phishing simulation is where safe but effective emails are sent to your employees for a set amount of time, say two weeks. You pick the templates that are used, based on what type of apps, software, websites, etc are used by your company or you know are common for your employees to use. LinkedIn, Airbnb, Microsoft, DocuSign, FedEx to name a few options. During the two weeks, the number of clicks on the test emails and attempts to enter sensitive information is captured. You then receive a risk report.
With the critical information you receive from a phishing simulation test, steps can be taken to reduce your company's cybersecurity risk, which likely will include cybersecurity awareness training. Security awareness training takes only minutes per month and will reduce end user risks of phishing from 70 to 90%!
The simplest way to reduce risk of a breach, is to strengthen your end users' ability to recognize and diffuse a phish. You've got to test and train the humans.
So if you could reduce your company's cyberattack risk by up to 90%, would you do it?
Posted on: September 18, 2019 By: Carolyn Kuczynski
The global business VoIP (UCaaS) market is expected to grow at a Compound Annual Growth Rate (CAGR) of 11 percent between 2018 and 2025, so chances are your organization has either already adopted the technology or made plans to do so in the near future.
As you start the process, you'll be amazed at all of the features and functionality this technology offers. We've been in many a meeting in which we've seen customers get excited about how business VoIP solutions such as MiCloud Connect and Mitel Teamwork could transform their work.
That's part of the fun. The technology is so new, though, it's spawned its own language. You hear these words all the time, but we thought it would be helpful to have the definitions in front of you as you evaluate business VoIP solutions. So, we've created this handy list of 10 hosted VoIP-related terms for you to keep nearby.
Our definitions will help you understand not only what they mean, but why they're important to a reliable and powerful business VoIP system. Before you know it, you'll be impressing—and maybe even intimidating—business VoIP sales reps with your expert knowledge.
Private Branch Exchange
A private branch exchange – more commonly known as a PBX – is a system that connects all of the phones in a building. Basically, it allows users to make both internal and external calls on shared phone lines. Think of a PBX as your old-school switch operator, but automated. The major benefit of a PBX is that it allows organizations to have a ratio of internal to external lines.
Let's say you run a brewery with 75 employees. Not all of them need to be talking on the public network at one time. In all likelihood, only about 10 of them will. With a PBX, you pay only for 10 lines rather than 75. Internal calls go through the PBX and are free – yes, free – so you can start adding other capabilities, like paging.
Then let's say you open a second brewery. PBX still has you covered with a private connection between each location's system. Thanks to the PBX, employees at both breweries can internally dial each other. Sounds pretty good, right?
Hosted PBX
Now that you have a better understanding of what a PBX does, let's move on to a hosted PBX. At the brewing company, you own the privately managed call controller or server on which the PBX operates. A hosted PBX resides in the cloud. It's a virtual PBX system delivered through your internet connection.
What's great about a hosted PBX is that you don't need to house or maintain any hardware or equipment. Everything is stored in the cloud, and the PBX provider handles maintenance. You get all of the benefits of a PBX system without any of the worry or headache. Your business also becomes adaptive, easily evolving and scaling as needs change.
Typically, a hosted system's subscription cost includes updates and new functionality, though you should always be sure to ask prospective providers about this. A hosted PBX allows your business to take advantage of advances in technology right away.
IP Desk Phone
Now let's dig into some of the devices your employees may use on a daily basis with a business VoIP system. An IP desk phone looks a lot like a traditional desktop phone, but it uses VoIP technology (the internet) to make calls. There's a huge range of options available when it comes to IP phone selection. You want superior voice quality, obviously, but you also need to decide what other features you need.
For example, how important is support for Bluetooth or USB handsets? Given the array of options, we typically recommend you review all options with your vendor to accurately determine which type of desk phone best meets your employees' needs.
Softphone
A softphone is a piece of software that allows you to make calls over the internet through any device that has a supported speaker and microphone. What exactly does this mean for your business? For one thing, your employees can make phone calls without using a physical telephone. Translation: You'll have less equipment to purchase.
Softphones require a headset and microphone and will typically include business phone system features such as call transfers, call waiting and call routing.
Because VoIP calls are usually less expensive than traditional landline calls, the cost savings of softphones go beyond physical equipment. In addition, if you choose a robust business VoIP system, your team gets access to additional features such as video conferencing, call center integration, instant chat and SMS messaging.
Virtual Phone Numbers For Business
Numbers that aren't anchored to a specific phone are called virtual phone numbers. They're used to forward calls to other phone numbers. Virtual numbers can be used on any communications device, including smartphones and desktops.
From a business perspective, virtual phone numbers deliver cost savings. Since they can be used across several phones, you have fewer phones to purchase. These virtual numbers can also be set to any area code, reducing long distance expenses and creating a local presence in the country where the call originated. Toll-free virtual numbers enable customers to call your business free of charge.
Another benefit is the option to create a unique virtual phone number for each department or business unit. Calls can be routed by set rules or via an IVR to improve the overall flow and organization of your communications.
Single Sign-On
While you probably know what this one means, you may not have a clear understanding of why it's important. Single sign-on (SSO) is an authentication process that gives users access to a host of proprietary business applications and systems with one set of credentials. That means your employees don't have to juggle multiple usernames and passwords. (We can hear the cheering now.)
IT departments also benefit from SSO. The drastic reduction in requests to locate or reset login credentials allows your technology staff to focus on more value-added tasks. As a whole your organization becomes more secure since there are fewer credentials that can be compromised.
Single Pane Of Glass
As the name implies, this is all about visibility. "Single pane of glass" relates to a management tool that unifies data and interfaces across several sources and presents them in a single view. You get a better perspective on what information is valuable, and that information is more readily available for your employees to act on.
When uniting disparate data sources into a single pane of glass view, users usually work with a dashboard that has a graphic interface so users can interact with the data and even generate custom reports.
But remember, we also mentioned interfaces in this definition. With communications systems, businesses often use multiple tools. A single pane of glass gives employees access to all of their communications and collaboration tools in one view. For example, MiCloud Connect Contact Center integrates chat, multiple customer interactions, call profile information and more.
Persistent Workspace
Persistent workspaces are ongoing virtual rooms where teams can collaborate via messaging, tasks, file sharing and more. If a user leaves the room, the conversation continues on. When they return, they will be alerted of missed chats and as well as messages, tasks and files specific to them.
A persistent workspace, such as the ones available in Mitel Teamwork, gives employees and team members access to all of the information they need in a single solution. Users save time, and productivity increases.
Automatic Call Distributor
If you operate an inbound call center, you need virtual queuing. Call centers use an automatic call distributor (ACD) – a device that answers and distributes incoming calls to specific groups within the center. With a virtual queue, callers have the option to hang up and have the system call them back when their turn comes up. While they wait, they can go about their day, without the hassle of sitting on hold. This can make your customer's day.
Workforce Management
When we talk about workforce management (WFM) in relation to UCaaS, we're referring to software solutions that improve the overall customer experience. This starts in the contact center. A WFM solution puts the most appropriate person in the right place at the right time.
For a better understanding of how this works, check out MiCloud Connect CX, a cloud-based contact center tool that's easy to set up and is intuitive to use. Plan and manage your contact center with ease and end the all-too-often nightmare that is scheduling.
Now that you've read our list, consider yourself well-armed to search for the right UCaaS solution provider. Hopefully, you have a better understanding of what you need versus what you want, and what you may need in the future. You can make a well-informed decision – one that will deliver all of the efficiency, productivity and reliability you expect.
Posted on: By: Carolyn Kuczynski
Faced with rising cloud costs and an inefficient IT structure, Homes.com chose to consolidate and migrate its critical business applications from multiple cloud providers, including Amazon Web Services to Expedient's Enterprise Cloud (EEC) platform. With more than 123 million monthly page views and 2.6 billion images, Homes.com is one of the nation's largest online real estate market places. The company's technology also powers numerous other real estate websites for agents, brokers, and large real estate franchises.
Homes.com selected Expedient, a CNSG Platinum Supplier, to improve its IT infrastructure and establish a reliable disaster recovery plan after experiencing rising costs with incumbent providers and realizing its vulnerability to downtime. With its consolidation and migration to EEC, Homes.com gained efficiencies in both costs and management through its ability to have one service provider execute on all facets of its infrastructure.
Homes.com is also leveraging EEC's Container Services Extension, which gives the Homes team the ability to run virtual machines and Kubernetes-orchestrated containers side-by-side as they map and implement their path from traditional applications to microservices and cloud-native. In addition, by taking advantage of Expedient Push Button DR, Homes.com has also realized the benefits of a seamless disaster recovery solution that enables them to restore their critical applications and environments in mere minutes.
Overall, the Expedient solution has resulted in a demonstrated 20% total cost of ownership savings for Homes.com, has ensured superior performance and availability of its popular real estate websites, and enables the necessary agility to scale and meet aggressive growth goals. Homes.com also appreciated Expedient's VMware Cloud Verified status and its data storage capability. Watch Dave Mele, President of Homes.com, explain why a partnership with Expedient was the best-case scenario for the business.
About Expedient Enterprise Cloud
Released in late 2018, Expedient's Enterprise Cloud platform is VMware uses the VMware Cloud Provider technology stack, including VMware vCloud Director, vRealize Operations, Log Insight, NSX, vSAN, and more, to give clients a more intuitive, flexible, and secure cloud management platform without the application refactoring and migration required from hperscale providers such as AWS, Microsoft Azure, or Google Cloud. Learn more on expedient.com.
Posted on: September 16, 2019 By: Carolyn Kuczynski
Most people have heard the term "MSP." While a majority understands that it stands for "Managed Service Provider," very few have a good grasp of what it really entails. As a result, many customers have ill-informed expectations.
To help clear up any misunderstanding, I spoke with Erik Nordquist, TPx's Product Manager for MSx Security Services and MSx Datacenters.
Erik, what do TPx customers really get with our Managed Firewalls and Managed SD-WAN solutions?
For Managed Firewalls, our security specialists monitor customers' firewalls 24/7 in our own SOCs (Security Operations Centers) to make sure the firewalls are up and operating.  In case it's down, we open a ticket and engage the customer to make sure it isn't an ISP issue.  If it's the ISP, then we work internally to make sure there isn't an issue with our circuit.
When we provision the firewall, we make sure it is provisioned properly and that it adheres to best practices.  We make all the necessary changes but keep the old configurations, with the new configurations being stored off-site in case there is a need for an audit or for disaster recovery.
If any vulnerabilities are discovered (not common, but can happen), then we update the firmware to close off the vulnerability.  If there are bugs, we work to resolve them.  If the hardware has issues, we work to get the hardware replaced.  The customer never needs to notify the vendor – we do that for them.  If any scans or compliance issues come up, we help resolve those with the customer.
If there is an issue on the network, we troubleshoot for the customer to best determine where the problem is.  We also provide reports about what is happening on the customer's network – for instance, what their web usage looks like.  With the MSx Optimum Firewall service, we maintain customer traffic logs for 4 months.
All of these things can happen at any time – day or night.  If a customer wants to make a change or just has a question, they can open a service ticket, send an email, or call the SOC team to speak with someone.
When we are managing a third-party circuit, since we are an authorized contact, TPx can open tickets if there are problems with the circuit and can work with the provider to troubleshoot the issues. This way the customer only has one company to contact and doesn't have to lose time by dealing with multiple parties.
Can you share some more benefits of managed services?
We deal with most issues that come up, which frees up the customer to concentrate on other areas.  In general, this is what managed services is all about.  An IT person may have general knowledge in all areas but not really specialize in one single area.  TPx has experts in all areas that we manage, and we have the systems in place to offer enterprise-level services that would otherwise not be available to smaller businesses.  Instead of hiring expensive IT people that are hard to find these days, customers can look to us to do this work.
Why should businesses choose TPx over other Managed Services Providers?
TPx is large enough to get the job done right and agile enough to get it done on time. TPx puts an emphasis on using market-leading technology while providing excellent customer service around the clock. Our services portfolio is designed to be a one-stop-shop for IT and security, so customers can eliminate the complexity and headaches that come with dealing with multiple vendors. Very few providers in the U.S. can offer a product portfolio scope of a nationwide managed services carrier like we do. Our trained and experienced staff watches over our customers 24/7/365 so that if an issue arises, it is resolved quickly and effectively. Our solutions are designed to provide enterprise-level quality and customization without an enterprise price tag.  We offer incredibly flexible cost options for customers, based on their service level needs and service commitment lengths.
Thanks for your insights, Erik!
You may feel overwhelmed with all the cybersecurity and IT pressures of today's digital environment, but there is a light at the end of the tunnel. Let us give you a hand with your IT and security – schedule a free consultation with our specialists or call 888-407-9594.
About the Author
Lucie Hys is a Senior Product Marketing Manager at TPx. She is currently leading the marketing efforts for the company's MSx suite of managed services. She has been working in marketing for more than 9 years, with the last four focusing on the cybersecurity industry. Lucie graduated with an MBA from Florida Gulf Coast University. In her spare time, she is an avid fitness enthusiast and a passionate traveler. 
Posted on: September 9, 2019 By: Carolyn Kuczynski

Business communication case study: MyEyeDr.
Founded in 2001 by a group of optometrists executing a high-growth-through-acquisition strategy, MyEyeDr. is a network of more than 400 local, well respected practices in 11 states and the District of Columbia. The 10,000-plus employee company offers eye-care services and a wide variety of prescription eyewear and contact lenses. By using innovative technology and empowering its doctors to do what they love, the company is championing a new path for vision care.
"As a longstanding customer, we have a deep level of trust in Vonage®, not only as our business communications provider, but as a partner that is equally focused on creating a better and more personalized experience for our patients."
Background
When joining the MyEyeDr. family, the majority of the company's optometry-practice acquisitions typically lack the business communications infrastructure that supports both the organization's signature level of customer service and its post-acquisition integration model's under-90-day cutover time. The eye-care provider needed to avoid the traditionally excessive construction costs and setbacks associated with a new addition (e.g., the frequent 6- to 12-month delays created when pairing a new location's pre-existing T1 line with a new fiber-optic network connection), reuse their pre-existing broadband connections without exacerbating packet loss or downtime, empower their acquisitions to engage with in-person and call-in patients in a HIPAA and PCI-compliant manner, and more.
Challenge
To provide a scalable, standardized, healthcare-tailored unified communications solution, MyEyeDr. needed a communications partner who could lay a foundation that would foster the company's ongoing growth, seamlessly deploy a better, cloud-based communications solution as the company acquires optometry practices, maintain a positive brand transition for loyal patients, and supply the process-driven expertise that would help the vision-care network's assimilation cycles go smoothly.
Solution
MyEyeDr. chose Vonage for its enterprise-grade unified communications as a service (UCaaS) platform, advanced call center technology, award-winning SD-WAN product, and proven success in deploying thousands of cloud seats for rapidly expanding organizations. The future-proofed solution enabled the company to bolster owner trust and confidence before, during, and after acquisition talks, support efficient call flow and voice prioritization, enhance the quality of patient interactions, avoid delays of revenue, support regulatory compliance, maximize uptime reliability, and realize a 28-percent reduction in support tickets between 2016 and 2018.
Results
Creating an Unsurpassed Patient Experience
The Vonage Enterprise UCaaS platform facilitates MyEyeDr.'s nimble, rapid-growth business model by freeing the company from having to accommodate the legacy technology of each new location (e.g., adding new fiber-optic network connections, etc.), providing each addition an encrypted, private MPLS network solution for enhanced productivity, regulatory compliance, and real-time collaboration (which has directly contributed to a 98-percent post-acquisition talent-retention rate), creating a consistent, seamless experience for all patients, no matter which location they visit or call center they reach, ensuring business continuity by automatically rerouting calls to a predetermined backup number in the event of a loss of power or internet connection, and more.
Freeing In-Store Associates to Focus on In-Store Traffic
Vonage Call Center gives MyEyeDr. the ability to successfully optimize pre-existing broadband connections, minimize on-hold times, optimize the call center experience for its patients, maximize the in-person customer service experience for its visitors, and prepare itself to deploy a communications platform as a service (CPaaS) solution with APIs. During peak periods of in-store traffic, the solution's automatic call distribution (ACD) functionality promotes a positive patient experience by intelligently rerouting calls to a MyEyeDr. call center, offering call-back options, and encouraging online-booking alternatives, while its interactive voice response (IVR) system provides a voice-driven menu that offers callers streamlined pathways to the live agents who can serve them best.
Getting All Calls Answered and All Appointments Set
By managing critical quality of service across all locations and pinpointing bandwidth utilization problems, Vonage's SD-WAN solution, SmartWAN, ensures MyEyeDr. can prioritize voice traffic, rely on real-time stateful failover capability (i.e., in the event of a carrier's disconnection, all calls are diverted to a secondary carrier—in real time—so the appointment-driven organization can maintain an exceptional level of uptime and 24/7 availability to its patients), elastically increase its network capacity, and more.
Posted on: September 5, 2019 By: Carolyn Kuczynski

Your guide to understanding UC white-glove service
"White-glove" means marked by special care or attention1 . Companies often throw this term around, but rarely take the time to explain what it means for their company. And with good reason. White-glove service can vary from a range of meanings from something slapped on marketing materials to the company's very heartbeat.
But when does our white-glove service begin? Our simple answer is: from the very beginning.
The moment you speak with a Momentum representative, your white-glove experience starts and this continues throughout the sales process, implementation, training and ongoing support.
The experience's first phase, the sales process, is uniquely highlighted by three characteristics:
Engagement
Our sales process includes input from our sales management, solution design engineers (SDEs), operations, engineering and (most importantly) you! We do this because we value creating getting the right solution that works for your enterprise. All of these parties add a particular value to creating a solution that allows Momentum to achieve the optimal proposal to take each and every organization to the next level.
Data Collection
The Momentum team takes the time to ask and discover what the enterprise actually needs and what they want. On top of that, learning about the business processes and current network configurations helps create a solid understanding of the company's network, processes and IT challenges.
Design
Once we have engaged with the customer and collected data on their company's needs and configurations, our team turns to our innovative product line to collaboratively build a customized and truly comprehensive communications solution designed to work for your company's needs.
Posted on: September 4, 2019 By: Carolyn Kuczynski
Technology requirements of mid-market organizations (ranging from 1K to 5K users) are becoming increasingly complex. The potential of digital transformation to redefine business models and customer experiences is gaining the attention of smaller enterprises. More specifically, companies are looking to enhance collaboration among remote workers and dispersed teams, quickly add locations and users and streamline infrastructure.
UCaaS solutions that bundle basic collaboration with additional functionality such as perimeter security and the SD-WAN flexibility can help businesses address these challenges and boost competitive advantage. Historically, however, the needs of mid-sized businesses have been overlooked. Providers have focused instead on plug-and-play solutions for small businesses at the low end, and on resource-intensive sophisticated solutions for the high end. In the process, mid-sized companies have been limited to generic, cookie-cutter solutions.
A recent white paper by Frost & Sullivan concludes that this landscape is changing.
In response to market demand and increased competition, providers are bringing a wide range of robust solutions to market, giving mid-sized enterprises unprecedented options. According to the Frost & Sullivan report, emerging capabilities include:
Advanced collaboration functionality that includes multimedia conferencing, content sharing, instant messaging and presence and mobility
Integrated UCaaS and contact center as a service (CCaaS)
Greater service reliability and stronger SLAs
Improved security posture and compliance to regulatory requirements
Enhanced service provider implementation and support, specifically in the areas of assessment, professional and managed services
Flexible APIs and greater third-party software interoperability, enabling true customization and tighter multi-vendor integration
Broader selection of communications endpoints, including desktop and DECT phones, conferencing devices, headsets, PC and mobile soft clients
So the good news is that mid-market enterprises now have more choices than ever when it comes to UCaaS functionality. The challenge now, of course, becomes making the right choice.
One potential pitfall is to select an overly complex solution that requires extensive internal resources to manage. Focusing solely on price, meanwhile, can have the same result, since bare-bones functionality typically requires greater oversight. These poor choices, meanwhile, can result from a lack of understanding of available options, or of the potential of available functionality.
In other words, customers often don't know what they don't know about UCaaS
Mid-sized businesses that have tested the waters of UCaaS can be particularly susceptible to this trap. Buyers whose experience has been limited to sub-optimal technology are likely to have a low bar of expectations. If the tools work at a basic level, the thinking goes, that's about all you can hope for. The idea that the tools might work much, much better doesn't seem realistic.
In today's environment of rapid technology innovation, that mindset can result in significant missed opportunities to leverage UCaaS to reduce costs, streamline operations and enhance collaboration across the enterprise. To avoid the trap, businesses exploring UCaaS options should take a rigorous due diligence approach with potential providers. Specifically, they should demand that technology partners invest the time and resources to assess and truly understand business issues and priorities.
Based on that understanding, providers can better explain – and customers can better understand – the art of the possible with today's UCaaS solutions.
Posted on: July 24, 2019 By: Carolyn Kuczynski
Written by John Dickson
Yes! It's a Match Made in Heaven!
SD-WAN has been a trending topic in the technology world for quite a while now, and long enough that it's beginning to become commonplace in network discussions and more routine when it comes deployments.
Today, most SD-WAN deployments are managed by companies that exclusively handle  SD-WAN. So any voice provider that planned to sell SD-WAN as a part of their solution to a customer would essentially be relying on these third-parties or outsourcing to manage the SD-WAN service.
That's why Momentum recently made headlines when they added SD-WAN to the company's solution portfolio.
Although unique, a voice and communications provider offering a managed SD-WAN solution brings a number of advantages to every deployment. Here  are a few:
1) The Benefit of the UCaaS Experience
VoIP and unified communications are a few of the primary applications that use an SD-WAN connection. So while traditional SD-WAN providers may be concerned with general deployment, connection speeds, etc., voice and communications providers are able to approach SD-WAN configurations and designs with a firmer understanding of the application requirements and end goal.
This allows voice providers to optimize and layout an SD-WAN blueprint and delivery plan for customers that ensures each and every deployment gets maximum results for their voice, UCaaS and all other applications.
2) Access to More Advanced Technology and Integrations
Because SD-WAN providers deal exclusively with that technology, they don't always have the access or the capability of integrating into all the latest pieces of technology. This especially happens at the individual application level where you'll see handshake deals or head nod agreements on how particular services and applications will perform on the connection.
Voice and communication providers have the experience, understanding, and partnerships to combine cutting-edge branches of technology to deliver the absolute best delivery to work with applications
For instance, Momentum has designed a way to deploy SD-WAN in a way that builds on the technology's enhanced availability, visibility, and control without having to sacrifice security and reliability. One way this is accomplished is through the option of placing a virtual session border controller in Momentum's data centers to ensure peak performance and quality.
Additionally, Momentum's SD-WAN deployments can leverage both wired and wireless bandwidth. This is a game-changer because the expansion of available connection options allows for deployments to truly find and use the best available bandwidth. It also means the solution isn't limited to locations with wired connections so it can be used almost anywhere.
3) Streamlined Experience
At the end of the day, one of the biggest benefits of having managed SD-WAN from a voice provider is the customer experience. You can see this in getting a single bill for multiple services, receiving access to savings through using multiple services and having a main single point of contact for questions and troubleshooting. Also, a voice and communication provider delivering SD-WAN can actually also provide even tighter protective security because all transmissions and signals remain in a single network.
SD-WAN from voice and communication providers delivers expertise,  enhanced technology, a better experience, and move financial value to customers. And if the provider is like Momentum and provides a white-glove experience, having a single provider for voice, SD-WAN and even possibly other network services can deliver additional meaningful value that simply can't be ignored.
Posted on: By: Carolyn Kuczynski
Today's customers are eager for solutions. Business-owning customers want to spend their time running their business and not on solving complicated IT problems; they WANT to pay you to make IT easier.
That all sounds great, but again — how do you secure those clients?
Iteration. MCSPs must constantly communicate with their clients in a more personal way. Dashboards, reports, email blasts, automated tickets, and generic vCIO content is great. However, it is not enough to create a tailored solution with the complexity required at this point. Clients need a plan; they need to be able to absorb this massive transition slowly. You must create a progressive technology plan that takes them from where they are to where they need to be, leading to higher acceptance and better retention.
Start with your knowledge of their business. If you don't have this knowledge, get it. Based on their vertical, their maturity and their concerns, start with what matters most. Compliance? Data Security? DR? Mobility? Scalability? Pick something to be the hub of your plan; something that justifies all the change and the necessary action for the client, or also justifies the early steps that don't seem like they are immediately solving a problem. It won't be the same for all clients. It needs to manage their concerns and reduce anxiety around the coming changes. In other words: solve a problem. Give them a plan that makes their business more efficient, not just cloudification. Once you have this, communicate, communicate, communicate — not just QBRs or automated communications. Sell the plan, get their buy-in and share what's next and why it's important. Remind them why this is happening every step of the way.
The critical steps will be the following, regardless of your justification:
Identity management. You are going to be distributing their services to the best place for the job, but this can't add 20 different logins to their daily life. As you roll out the rest of the plan, start with single sign-on and access control from the beginning. As a bonus, select a provider that adds SaaS utilization management so that you can be efficient with the clients' spend on SaaS — Okta and MetaSaaS, for instance.
Accelerate. Implement SD-WAN for reliable and responsive connectivity to the cloud – VMware's Velocloud for instance. This will reduce the time that you spend managing the network connections that are critical to the solution, and it will keep the experience solid as they rely more heavily on the cloud via their WAN.
Secure. Secure the solution with a managed NGFW and SOC solution. Protect the endpoints — don't just trust a firewall, no matter how next-generation it may be. Belts and suspenders. You want to start out secure, not by bolting it on after a breach or compromise. This is the first step that will feel like they are making progress. If this isn't done right early, it will lead to similar failures as discussed above with the WAN. Cloud is inherently secure to end-users. You don't want to misstep and have them question the solution mid-way.
SaaS offload. Find the needs best served by SaaS. No need to migrate a legacy app that is in need of a refresh and unable to realize the promise of the cloud due to its shortcomings from age. Don't force it. Ask yourself, "Does the SaaS alternative really solve their problem?"
Migrate. Migrate their legacy apps to IaaS. Migrate their desktops to DaaS or a workspace solution. You won't be able to replace everything with SaaS. It's not the best solution for every workload and forcing it will just decrease the clients' efficiency and happiness with the solution. DaaS and IaaS will give their legacy applications the SaaS-like feel of mobility and accessibility. One more note: Don't force DaaS until everything else is in order. It's another place you can undo a lot of trust if the predecessor tasks are not solid and complete.
Protect. Don't forget a DR and backup strategy. That's another place that clients think is magic in the cloud. Backup SaaS data, replicate IaaS data to multiple regions. Have a DR strategy for remote working. Don't undersell the value of having a DR plan for not only major natural disasters but things like holidays, inclement weather, moving offices or growing quickly.
Measure and improve. The cloud offers an endless stream of information about your clients' workloads. Use this technology to continually improve through discussions of changes to their business, growth of resources continued migrations to SaaS, auditing, etc.
Above are some tools to help with the planning of such a strategy and communicating the value. It's time to evolve. It's time to change the game again. You will differentiate yourself and secure long-term clients.