Posted on: September 30, 2019 By: Carolyn Kuczynski
Written by Anil Kanwar – 
In today's business environment, companies that want to stay relevant and competitive need to understand how to take advantage of Digital Transformation to evolve with their customer and markets. Yet in Canada only 19% of mid-market companies have reached an advanced level of digital maturity as assessed by BDC on digital technologies and digital culture[1]. The vast majority of these businesses struggle with removing their own barriers to evolution. Over my 23 years of global experience in Information Technology & Business transformation, with the last 6 years with a focus on Canadian enterprises and mid-market organizations, I have helped many organizations successfully complete this transformation. During this time, I have also seen first-hand the challenges facing most mid-sized companies in their evolution. Specifically, 3 general barriers to successful cloud adoption are common in the Canadian marketplace:
1.   Perhaps the most important challenge I have seen is the lack of an inclusive cloud adoption framework. In the Canadian mid-market specifically, businesses have not made the adjustment from traditional technology purchasing practices to cloud and on-demand service adoption. The buying process is still owned by the IT department and is executed in a tactical, reactive way rather than with strategy and planning baked-in to the execution. In many instances critical business and functional groups are not incorporated into the process. This often leads to poor realization of the cloud's value to the business and to a narrow perspective of the cloud, how to use it, and how to best leverage value out of such services. Instead of fostering a strategic change and transformation, IT planning becomes focused on point tools and solutions, instead of offering a transformative new way of doing business. As a personal observation, in many cases that I have supported, a lack of an inclusive cloud adoption framework has added tens of thousands of dollars in additional costs, delayed delivery times and even caused project cancellation due to a poorly defined cloud economics.
2.   The second barrier is often a lack of access to critical skilled resources. The Information and Communications technology Council (ICTC), a policy advisor to businesses and governments across Canada predicts a shortage of approximately 216,000 technical resources in Information and Communications Technology (ICT) sector by 2021[3]. This expertise gap refers to Social, Mobile, Analytics, Cloud along with IoT and emerging digital technologies like Augmented Reality, Artificial Intelligence, 5G, Blockchain and 3D printing. Even for organizations that have great talent resources, in most cases they are too busy keeping the lights on to focus on innovation or generating real business value. As a result, cloud adoption is often limited to "lift and shift", rather than true IT evolution or Digital Transformation. Ultimately, these businesses end up ignoring enabling technologies and practices that could help them focus on transformative ways of delivering business applications, improving customer/user experience, and driving business value.
3.   Lastly, there's cloud security and compliance. For someone who has been doing cloud for as long as I have, this is the one I had thought was long addressed. Yet with many organizations there is still a prevalent belief that cloud is less secure, along with traditional concerns about data residency and sovereignty. It is important to note that in the various shared models- IaaS, PaaS, SaaS- security concerns vary based on service delineations between service provider and customer. Cloud providers have a vested interest in protecting their reputation. They have access to the best resources who are specifically focused on following security best practices. And they abide by stringent compliance frameworks and audits as part of their operations. Many of these capabilities are beyond typical mid-sized organization – simply put, a provider whose sole reason for being is to provide robust, secure, highly available infrastructure, is generally going to provide better outcomes than your business staff, who should be focused on your business' core value operations instead of IT maintenance activities.
I was recently engaged with a global technology company undergoing its own cloud transformation. They had settled, without a clear cloud adoption framework [2], on a single hyperscaler cloud for their VMware workload. Through a structured cloud adoption framework, we were able to establish consensus across the organization, expand their ecosystem to multiple clouds via an application centric/ best execution venue approach and deliver on defined business outcome.
The professional services support expedited their application launch by enabling them on key cloud services like automation and security across multi-cloud deployments. This experience illustrates how Mid-market organizations in Canada face similar challenges in adopting cloud as their much larger counterparts but must find a way to do so with less expertise and fewer resources. Hence, finding the right managed services and professional services partner is critical to success in digital transformation.
To conclude, I believe the Canadian mid-market segment has not only the need to adopt digital technologies but also to appropriately manage these assets to effectively compete in the global market. The findings of digital maturity assessments done by BDC and MIT, proved that businesses with higher digital maturity outperformed less mature firms on multiple financial measurements.
Written by Anil Kanwar 
Author's Bio
Anil is a Solution Architect and is responsible for working with enterprise customers to understand their IT strategy, provide assessments of their current infrastructure state, design target state and provide a phased approach to reach and maintain it using TeraGo services. He brings 20+ years of enterprise IT experience spread across pre-sales, delivery and product management working with large system Integrators and product companies.
References
[1] BDC –  Digital maturity assessment – https://www.bdc.ca/en/articles-tools/entrepreneur-toolkit/business-assessments/digital-maturity/pages/default.aspx
[2] AWS Cloud Adoption Framework – https://aws.amazon.com/professional-services/CAF/
[3] – Information and Communications Technology Council (ICTC) Report – The Next Talent Wave – Navigating the digital shift – Outlook 2021 – https://www.ictc-ctic.ca/wp-content/uploads/2017/04/ICTC_Outlook-2021.pdf
Posted on: September 26, 2019 By: Carolyn Kuczynski
In 2019, it has become clear that SD-WAN has secured its position as the way forward for enterprise WAN connectivity. Market adoption is growing rapidly, and industry experts have declared a winner in the SD-WAN vs MPLS debate. For example, Network World called 2018 the year of SD-WAN, and before the end of Q3 2018 Gartner declared SD-WAN is killing MPLS. What's driving all the excitement around SD-WAN? It effectively comes down to this: SD-WAN is more cost-effective and operationally agile than MPLS. SD-WAN reduces capex and opex while also simplifying WAN management and scalability.
However, if you don't drill down beyond high-level conclusions, it can be hard to quantify how SD-WAN will matter for your business. Here, we'll dive into the top 5 SD-WAN benefits and explain why IT professionals and industry experts alike see SD-WAN as the way forward for enterprises.
Reduced WAN Costs
MPLS bandwidth is expensive. On a "dollar per bit" basis, MPLS is significantly higher than public Internet bandwidth. Exactly how much more expensive will depend on a number of variables, not the least of which is location. However, the costs of MPLS aren't just a result of significantly higher bandwidth charges. Provisioning an MPLS link often takes weeks or months, while a comparable SD-WAN deployment can often be completed in days. In business, time is money, and removing the WAN as a bottleneck can be a huge competitive advantage.
Just how big of a cost difference is there between MPLS and SD-WAN? The specifics of your network will be the real driver here. Expecting savings of at least 25% is certainly reasonable, and for many enterprises it can go well beyond that. For one Cato customer, MPLS was 4 times the cost of cloud-based SD-WAN despite MPLS only providing a quarter of the bandwidth.
For a real world example of how Nick Dell, an IT manager at a major auto manufacturer, optimized his WAN spending by ditching MPLS and moving to SD-WAN, check out this webinar.
Enhanced WAN Performance
MPLS was the top dog in enterprise WAN before cloud-computing and mobile smart devices exploded in popularity. Once cloud and mobile became mainstream, a fundamental flaw in MPLS was exposed. Simply put: MPLS is very good at reliably routing traffic between two static locations, but it isn't good at meeting the demands of cloud and mobile.
With MPLS, enterprises have to deal with the "trombone effect". Essentially, an MPLS-based WAN has to inefficiently backhaul Internet-bound traffic to a corporate datacenter. The same Internet-bound traffic is then routed back through the corporate datacenter. This places a drag on network performance and can really hurt modern services like UCaaS and videoconferencing.
As SD-WAN enables policy-based routing (PbR) and allows enterprises to leverage the best transport method (e.g. xDSL, cable, 5G, etc.) for the job, this means no more trombone effect and improved performance for mobile users and cloud services.
In addition to solving the trombone routing problem, SD-WAN is a game changer when it comes to last-mile performance. The same ability to leverage different transport methods enables a more advanced approach to link-bonding that can significantly improve last-mile resilience and availability.
Improved WAN Agility
MPLS wasn't designed with agility in mind. SD-WAN on the other hand is designed to enable maximum agility and flexibility. By abstracting away the underlying complexities of multiple transport methods and enabling PbR, SD-WAN allows enterprises to meet the varying demands of cloud workloads and scale up or down with ease.
For example, onboarding a new office with MPLS can take anywhere from a few weeks to a few months. With Cato's cloud-based SD-WAN, new sites can be onboarded in a matter of hours or days. Case in point: Pet Lovers Center was able to deploy two to three sites per day during their Cato Cloud rollout.
Similarly, adding bandwidth can take over a month in many MPLS applications, while SD-WAN enables rapid bandwidth provisioning at existing sites.
Simplified WAN Management
As we've mentioned, the long provisioning times with MPLS can create significant bottlenecks, but MPLS management issues go well beyond that. The larger an enterprise scales, the more complex WAN management becomes. Multiple appliances used for security and WAN optimization become a maintenance and management burden as an enterprise grows.. Further, gaining granular visibility into the network can be a challenge, which leads to monitoring and mean time to recover issues. Cloud-based SD-WAN adds value here by providing an integrated and centralized view of the network that can be easily managed at scale.
Increased WAN Availability
When it comes to uptime, redundancy and failover are the name of the game. While MPLS has a solid reputation for reliability, it isn't perfect and can fail. Redundancy at the MPLS provider level is expensive and can be a pain to implement. SD-WAN makes leveraging different transport methods easy, thereby enabling high-availability configurations that help reduce single points of failure. If your fiber link from one ISP is down, you can failover to a link from another provider. Further, the self-healing features of cloud-based SD-WAN make achieving high-availability (HA) significantly easier than before.
The Cloud-Based Advantage
We've already mentioned a few ways cloud-based SD-WAN helps magnify SD-WAN benefits, but it is also important to note that cloud-based SD-WAN overcomes one of the major SD-WAN objections MPLS proponents have put forth. In the past, it could have been argued that the lack of SLAs meant SD-WAN solutions were not ready for showtime at the enterprise-level. However, with cloud-based SD-WAN from Cato, enterprises get all the benefits of SD-WAN, an integrated security stack, and an SLA-backed private backbone supported by Tier-1 ISPs across the globe.
Furthermore, this private backbone solves another problem other SD-WAN solutions cannot: latency across the globe. For international enterprises that must send traffic halfway across the world, routing WAN over the public Internet alone can lead to significant latency. In the past, this would mean dealing with the operational and dollar costs of MPLS to become worth it. However, cloud-based SD-WAN offers a more cost effective and operationally-efficient alternative. Cato's global, private backbone has PoPs (Points of Presence) across the world that enable traffic to be reliably routed across at speeds that meet or exceed MPLS-level performance.
SD-WAN outstrips MPLS for the modern enterprise
While there is no one-size-fits-all answer to every WAN challenge, it's clear that the majority of modern enterprises can benefit from SD-WAN. We can expect to see MPLS hold a niche in the market for years to come, but SD-WAN is better suited for most modern use-cases. In particular, cloud-based SD-WAN gives businesses a reliable, secure, and modern MPLS alternative that offers the agility of SD-WAN without sacrificing reliability or the peace of mind SLAs provide.
To learn more about what cloud-based SD-WAN can do for your business, join our upcoming Dark Side of SD-WAN webinar or contact us today.
Posted on: September 25, 2019 By: Carolyn Kuczynski
Technology moves fast, and as an IT professional you're expected to navigate new technology and drive your company's digital transformation. Your dear co-workers might ask questions like: "Why aren't we using this app that came out four days ago? How quickly could we move all our data and applications to the cloud?" Working in IT means the expectations of your customers and co-workers are constantly rising. More so than ever, IT teams are under pressure to respond quickly to new technology and capabilities.
In addition to being the Magellan of technology at your company, you're expected to manage inventory, implement cybersecurity, oversee data storage, build rocket ships, and so much more. Managing all these moving parts is daunting. Luckily, many of the challenges you and other departments in your company might face, can be simplified or automated with a CPaaS solution.
CPaaS allows you to customize your internal and external communications by integrating with your current business systems seamlessly. Easily deploy automation across your entire enterprise that improves communication and productivity for multiple departments.
Music to your ears, right? Here are a few ways that CPaaS can help you work more but do less:
Easily Deploy and Integrate
There's no need to undo any work you've already done. Instead of overhauling all of your company's communications processes you can leverage and enhance your existing systems, such as CRM, contact center, support ticket management systems, email platforms, and more. Your leadership team will appreciate that you can utilize existing investments, your co-workers will be amped that they don't have to learn a new software, your customers will be delighted with your enhanced communications, and you will be able to take a deep breath with all the time you've saved. Maybe grab a coffee? An afternoon snack, perhaps? Up to you. We support it.
CPaaS is flexible, scalable, and you can use what you need when you need it. Use CPaaS for on-the-fly solutions like adding additional network capacity or as a back-up option if your contact center goes down.
Send Internal Alerts
You want to make sure your customers and coworkers are always in the know. Whether you're setting up new employees with new equipment, managing customer service responses, or responding to external issues, CPaaS has your six. Save time and instantly notify your team of what's new. From maintenance notifications, outages, password change reminders – you name it, CPaaS allows you to quickly send messages through voice, SMS, or other channels.
Streamline Trouble Tickets
Sometimes your help desk could use some help. Between computers crashing, software not working, someone not realizing their computer is unplugged, and a million other things out of your control, people are always submitting trouble tickets. You need an easy way to interact with your team members to let them know that their request is received as well as its status as it moves through the resolution process. CPaaS applications can automate many of these responses, allowing you to focus on solving the issue rather than communicating the troubleshooting process. Integrate with your favorite trouble ticket management system to make your help desk run a little smoother with automated status updates.
Proactively Monitor and Measure
While most CPaaS platforms do not offer analytics, IntelePeer is different. Not to toot our own horn…but…*toot toot*. Gain real-time and historical visibility across your network to pinpoint issues and make better decisions. View call volume and usage to better manage resources. Not only will our analytics help you react to changes and new trends, it will allow you to humble-brag the improvements you've made to your everyday business processes.
If you've made it this far, it means you're probably picking up what we're putting down. Learn more about how Atmosphere® CPaaS was built with IT teams in mind here.  We're constantly making improvements to our products based on the feedback of our customers so be sure to visit our blog and check in!
Posted on: September 24, 2019 By: Carolyn Kuczynski
About the only thing shifting as fast as the cyber threat landscape is the typical enterprise's org chart. As enterprises aim to keep pace with the rapidly evolving digital economy, many are restructuring internal departments, hiring criteria and the processes by which they develop and distribute products, all with the overarching objective of becoming more proficient at rapidly responding to new opportunities in the marketplace.
In making these well-intentioned adjustments, the ability for enterprises to establish robust, broadly integrated cybersecurity as a core capability of their re-calibrated operation will be one of the best predictors of whether these changes will prove successful.
The Expanding Footprint of Data in the Enterprise
The degree of difficulty in achieving solid, enterprise-wide cybersecurity posture is difficult not only because cyber threats continue to grow in volume and sophistication, but because of the expanding footprint of data in the enterprise.
Call data the new gold, the new air, the new oil – whichever metaphor you prefer – and the reality remains that the need to leverage data is becoming increasingly essential across lines of business. That is one of the main reasons why security teams must not look at themselves as the sole implementer and enforcer of sound security practices, but rather spread security awareness and adoption of clear policies with their colleagues as an ongoing, sustained point of emphasis.
More than 8 in 10 respondents to ISACA's research say that establishing a stronger culture of cybersecurity would increase their organization's profitability, and this will only become more on-target as organizations increasingly embrace digital business models.
The rising profile of data analytics factors in heavily, as referenced in a recent McKinsey article, which noted that "as companies adopt massive data analytics, they must determine how to identify risks created by data sets that integrate many types of incredibly sensitive customer information. They must also incorporate security controls into analytics solutions that may not use a formal software-development methodology."
The cloud is another area in which proactively bolstering security capabilities will be critical in the new enterprise environment. While cloud computing is certainly not new, turning to cloud providers has become increasingly attractive for many enterprises whose traditional server-based approach no longer is sufficient for storing and protecting their data.
Modern cloud platforms supply enterprises with an array of options that provide data storage and protection that can lead to dramatically improved scalability and flexibility. While new, sophisticated security capabilities are being integrated into today's cloud platforms, these capabilities are not always integrated into organizations' security programs, whether due to discomfort with trying new approaches or just the challenge of carving out time to explore them amid the usual, day-to-day challenges. This is a missed opportunity for enterprises to enhance their security programs and derive additional value from their investments in the cloud.
Turning DevOps into DevSecOps
 Another dynamic elevating the importance of broader integration of security principles is DevOps. In an era in which business velocity can reach a dizzying pace, enterprises have turned to DevOps to move faster and more efficiently in their builds, deliveries and deployments.
The problem is, security oftentimes is an afterthought in this process, which puts developers in the difficult position of trying to figure out security best practices on their own. Working security into the DevOps program – referred to as DevSecOps – allows the security team to become involved during the design phase and ensure that critical security flaws are identified and addressed before they require costly fixes that become increasingly costly later in the process.
Similarly, Agile development methodology needs to take cybersecurity considerations into account, such as ensuring that all data is properly categorized and that a comprehensive, risk-based approach to safeguarding the data is in place.
Historically, we have seen enterprises are typically more attentive to positioning themselves to sell products and increase revenue than to protecting themselves and their customers from security threats. But as we near a new decade – the 2020s – the pace at which enterprises will realign to thrive in a technology-driven digital economy will only accelerate. We remain in the early stages of this era of digital transformation.
Consider the way technologies such as artificial intelligence/machine learning, robotics, and the ongoing proliferation of connected devices will create new business opportunities that result in new methods of product development and ushering products to market. Anything less than deeply ingrained cybersecurity throughout the enterprise will not work going forward.
By integrating sound cybersecurity practices in all areas of the organization, implementing new security capabilities that are baked into modern cloud services and turning DevOps into DevSecOps, enterprises will have the flexibility to re-imagine their business models while retaining a stable foundation on which to innovate.
Interested in learning more about the biggest trends in cybersecurity? Read CenturyLink's 2019 Threat Report.
For more CenturyLink blog content, visit the NetNext blog at blog.centurylink.com.
Posted on: September 19, 2019 By: Carolyn Kuczynski
90% of the time hackers deliver their malware through an email. If you've followed any cybersecurity stats, you've probably already heard this one from the 2019 Verizon Data Breach Investigations Report. So why do cybercriminals use email? Because they don't have to search around to find a vulnerability in a website or software. Phishing is a simple, direct approach that doesn't take much time. Hackers don't even really have to be tech savvy to send phishing emails. They can buy tools online for as little as $2 and send emails to an infinite number of potentially unsuspecting people.
Cybercrime is all about finding vulnerabilities. Cybercriminals have an easy time finding the vulnerability in humans. Humans who are moving fast through emails, trying to get their jobs done. And humans are generally pretty trusting. As Nick Espinosa says in his Five Laws of Cybersecurity TedX talk, "Humans can trust when they shouldn't." His audience saw this first hand when Espinosa asked everyone to look under their chairs for something that was placed there. Everyone bent over, felt under their seats until Espinosa let them off the hook saying that there's actually nothing under their chairs but hey, you all believed me, right?? Point taken.
But most of us know how to identify a phishing email at this point, right? This stuff is all over the news. We get it! Well, the data says we don't get it. Because if we did, 90% of breaches wouldn't be coming from email.
Phishing emails and websites can look real. Really real. It can be very difficult to tell that the email you just received isn't actually Amazon asking you to verify your purchase. You just bought some tube socks on Amazon last week! Outlook needs you to click here for the software update? Makes sense. Software has to be updated! Isn't it actually unsafe to not update software??  Krebs on Security reported a while back that half of all phishing scams are now hosted on websites whose Internet address includes the padlock and begins with "https://", like the scam PayPal site image below. So not only do the emails and websites look legit, some of the clues we were taught to look for don't work anymore.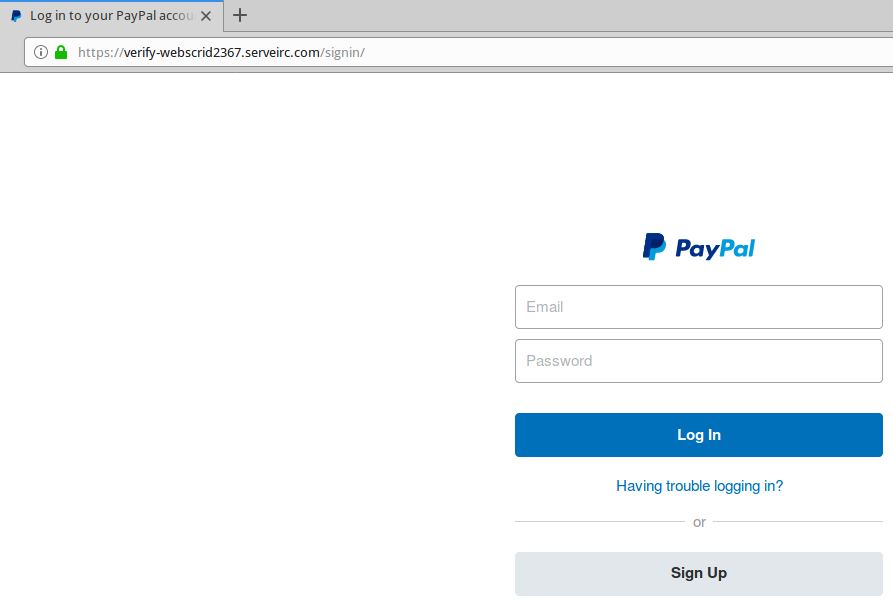 If it's so difficult to tell real from fake, then what do I do to protect my company?" you may be asking yourself. This is where employee education comes in. But before we start that, it's a good idea to get a baseline to see how well your  company's employees recognize a phishing email and website.
A baseline phishing simulation is where safe but effective emails are sent to your employees for a set amount of time, say two weeks. You pick the templates that are used, based on what type of apps, software, websites, etc are used by your company or you know are common for your employees to use. LinkedIn, Airbnb, Microsoft, DocuSign, FedEx to name a few options. During the two weeks, the number of clicks on the test emails and attempts to enter sensitive information is captured. You then receive a risk report.
With the critical information you receive from a phishing simulation test, steps can be taken to reduce your company's cybersecurity risk, which likely will include cybersecurity awareness training. Security awareness training takes only minutes per month and will reduce end user risks of phishing from 70 to 90%!
The simplest way to reduce risk of a breach, is to strengthen your end users' ability to recognize and diffuse a phish. You've got to test and train the humans.
So if you could reduce your company's cyberattack risk by up to 90%, would you do it?
Posted on: By: Carolyn Kuczynski
Car dealerships have a stack of specific needs for internet connectivity. Customer credit checks, bank rates, and loan approvals, even coordinating with the local DMV — all require a dependable internet connection. On average, companies in the U.S. experience network outages five times per month — that's 60 periods of downtime each year! According to a recent IHS study, outages cost more than $700 Billion a year.
Beyond those car dealership specific needs, odds are a local dealership — or regional auto group — relies on the internet for a whole slate of cloud-based applications. Office 365, G Suite, cloud-based inventory control and ordering, and even online marketing. In today's world, chances are any business is going to be hampered by a broken internet connection.
That's where CellCast enters the picture.
CellCast 4G-LTE
In the past, solving network connectivity issues could be a complicated matter of determining providers, technologies, capabilities, and costs for any given practice. As a backup to your existing network, CellCast: FailOver is easy to configure and install and transforms any network location into a fully managed solution.
For locations with no wired internet options, CellCast: Primary delivers high-speed 4G-LTE internet that is cost-effective and can be installed almost anywhere.
Microspace: The Difference
Some of the main differences between CellCast and other 4G solutions include superior network management and award-winning white glove support. Real-time status and health reporting of each CellCast router back to the Network Operations Center in Raleigh, N.C., gives Microspace the capability to react quickly and effectively to keep your office
connected.
Beyond router and network status, each device can also be remotely accessed for security and firmware updates — keeping your network up to date and secure.
With available month-to-month billing CellCast: Primary is also an ideal solution to delayed network installations or ongoing service issues. In emergency situations, routers can even be deployed and connected overnight.
Solution Brief: Sales Goals
The folks at Smith Auto Group are closing in on their monthly sales goals. Several salespeople are working with customers. More than a couple have deals made, and now it's just a matter of confirming trade value, checking credit, getting loan rates, and producing paperwork for the DMV.
Things are going well until their internet service provider crashes. Without internet connectivity, these sales can't happen. Connectivity to CRM information is lost. Smith Auto also loses out on financing deals and closing sales because they can't process paperwork online. They can't even make phone calls because it's a bundled service.
This is a scenario that's ideal for CellCast: FailOver. A fullymanaged, CellCast router automatically takes over. The dealership stays connected and doesn't miss a beat when CellCast takes over. When the local ISP gets their outage resolved, the system resets automatically. True business continuity.
For dealerships with multiple locations, Microspace can even arrange for shared data pools across locations to maximize the value of an inexpensive, managed failover system.
Posted on: September 18, 2019 By: Carolyn Kuczynski
The global business VoIP (UCaaS) market is expected to grow at a Compound Annual Growth Rate (CAGR) of 11 percent between 2018 and 2025, so chances are your organization has either already adopted the technology or made plans to do so in the near future.
As you start the process, you'll be amazed at all of the features and functionality this technology offers. We've been in many a meeting in which we've seen customers get excited about how business VoIP solutions such as MiCloud Connect and Mitel Teamwork could transform their work.
That's part of the fun. The technology is so new, though, it's spawned its own language. You hear these words all the time, but we thought it would be helpful to have the definitions in front of you as you evaluate business VoIP solutions. So, we've created this handy list of 10 hosted VoIP-related terms for you to keep nearby.
Our definitions will help you understand not only what they mean, but why they're important to a reliable and powerful business VoIP system. Before you know it, you'll be impressing—and maybe even intimidating—business VoIP sales reps with your expert knowledge.
Private Branch Exchange
A private branch exchange – more commonly known as a PBX – is a system that connects all of the phones in a building. Basically, it allows users to make both internal and external calls on shared phone lines. Think of a PBX as your old-school switch operator, but automated. The major benefit of a PBX is that it allows organizations to have a ratio of internal to external lines.
Let's say you run a brewery with 75 employees. Not all of them need to be talking on the public network at one time. In all likelihood, only about 10 of them will. With a PBX, you pay only for 10 lines rather than 75. Internal calls go through the PBX and are free – yes, free – so you can start adding other capabilities, like paging.
Then let's say you open a second brewery. PBX still has you covered with a private connection between each location's system. Thanks to the PBX, employees at both breweries can internally dial each other. Sounds pretty good, right?
Hosted PBX
Now that you have a better understanding of what a PBX does, let's move on to a hosted PBX. At the brewing company, you own the privately managed call controller or server on which the PBX operates. A hosted PBX resides in the cloud. It's a virtual PBX system delivered through your internet connection.
What's great about a hosted PBX is that you don't need to house or maintain any hardware or equipment. Everything is stored in the cloud, and the PBX provider handles maintenance. You get all of the benefits of a PBX system without any of the worry or headache. Your business also becomes adaptive, easily evolving and scaling as needs change.
Typically, a hosted system's subscription cost includes updates and new functionality, though you should always be sure to ask prospective providers about this. A hosted PBX allows your business to take advantage of advances in technology right away.
IP Desk Phone
Now let's dig into some of the devices your employees may use on a daily basis with a business VoIP system. An IP desk phone looks a lot like a traditional desktop phone, but it uses VoIP technology (the internet) to make calls. There's a huge range of options available when it comes to IP phone selection. You want superior voice quality, obviously, but you also need to decide what other features you need.
For example, how important is support for Bluetooth or USB handsets? Given the array of options, we typically recommend you review all options with your vendor to accurately determine which type of desk phone best meets your employees' needs.
Softphone
A softphone is a piece of software that allows you to make calls over the internet through any device that has a supported speaker and microphone. What exactly does this mean for your business? For one thing, your employees can make phone calls without using a physical telephone. Translation: You'll have less equipment to purchase.
Softphones require a headset and microphone and will typically include business phone system features such as call transfers, call waiting and call routing.
Because VoIP calls are usually less expensive than traditional landline calls, the cost savings of softphones go beyond physical equipment. In addition, if you choose a robust business VoIP system, your team gets access to additional features such as video conferencing, call center integration, instant chat and SMS messaging.
Virtual Phone Numbers For Business
Numbers that aren't anchored to a specific phone are called virtual phone numbers. They're used to forward calls to other phone numbers. Virtual numbers can be used on any communications device, including smartphones and desktops.
From a business perspective, virtual phone numbers deliver cost savings. Since they can be used across several phones, you have fewer phones to purchase. These virtual numbers can also be set to any area code, reducing long distance expenses and creating a local presence in the country where the call originated. Toll-free virtual numbers enable customers to call your business free of charge.
Another benefit is the option to create a unique virtual phone number for each department or business unit. Calls can be routed by set rules or via an IVR to improve the overall flow and organization of your communications.
Single Sign-On
While you probably know what this one means, you may not have a clear understanding of why it's important. Single sign-on (SSO) is an authentication process that gives users access to a host of proprietary business applications and systems with one set of credentials. That means your employees don't have to juggle multiple usernames and passwords. (We can hear the cheering now.)
IT departments also benefit from SSO. The drastic reduction in requests to locate or reset login credentials allows your technology staff to focus on more value-added tasks. As a whole your organization becomes more secure since there are fewer credentials that can be compromised.
Single Pane Of Glass
As the name implies, this is all about visibility. "Single pane of glass" relates to a management tool that unifies data and interfaces across several sources and presents them in a single view. You get a better perspective on what information is valuable, and that information is more readily available for your employees to act on.
When uniting disparate data sources into a single pane of glass view, users usually work with a dashboard that has a graphic interface so users can interact with the data and even generate custom reports.
But remember, we also mentioned interfaces in this definition. With communications systems, businesses often use multiple tools. A single pane of glass gives employees access to all of their communications and collaboration tools in one view. For example, MiCloud Connect Contact Center integrates chat, multiple customer interactions, call profile information and more.
Persistent Workspace
Persistent workspaces are ongoing virtual rooms where teams can collaborate via messaging, tasks, file sharing and more. If a user leaves the room, the conversation continues on. When they return, they will be alerted of missed chats and as well as messages, tasks and files specific to them.
A persistent workspace, such as the ones available in Mitel Teamwork, gives employees and team members access to all of the information they need in a single solution. Users save time, and productivity increases.
Automatic Call Distributor
If you operate an inbound call center, you need virtual queuing. Call centers use an automatic call distributor (ACD) – a device that answers and distributes incoming calls to specific groups within the center. With a virtual queue, callers have the option to hang up and have the system call them back when their turn comes up. While they wait, they can go about their day, without the hassle of sitting on hold. This can make your customer's day.
Workforce Management
When we talk about workforce management (WFM) in relation to UCaaS, we're referring to software solutions that improve the overall customer experience. This starts in the contact center. A WFM solution puts the most appropriate person in the right place at the right time.
For a better understanding of how this works, check out MiCloud Connect CX, a cloud-based contact center tool that's easy to set up and is intuitive to use. Plan and manage your contact center with ease and end the all-too-often nightmare that is scheduling.
Now that you've read our list, consider yourself well-armed to search for the right UCaaS solution provider. Hopefully, you have a better understanding of what you need versus what you want, and what you may need in the future. You can make a well-informed decision – one that will deliver all of the efficiency, productivity and reliability you expect.
Posted on: September 16, 2019 By: Carolyn Kuczynski
Most people have heard the term "MSP." While a majority understands that it stands for "Managed Service Provider," very few have a good grasp of what it really entails. As a result, many customers have ill-informed expectations.
To help clear up any misunderstanding, I spoke with Erik Nordquist, TPx's Product Manager for MSx Security Services and MSx Datacenters.
Erik, what do TPx customers really get with our Managed Firewalls and Managed SD-WAN solutions?
For Managed Firewalls, our security specialists monitor customers' firewalls 24/7 in our own SOCs (Security Operations Centers) to make sure the firewalls are up and operating.  In case it's down, we open a ticket and engage the customer to make sure it isn't an ISP issue.  If it's the ISP, then we work internally to make sure there isn't an issue with our circuit.
When we provision the firewall, we make sure it is provisioned properly and that it adheres to best practices.  We make all the necessary changes but keep the old configurations, with the new configurations being stored off-site in case there is a need for an audit or for disaster recovery.
If any vulnerabilities are discovered (not common, but can happen), then we update the firmware to close off the vulnerability.  If there are bugs, we work to resolve them.  If the hardware has issues, we work to get the hardware replaced.  The customer never needs to notify the vendor – we do that for them.  If any scans or compliance issues come up, we help resolve those with the customer.
If there is an issue on the network, we troubleshoot for the customer to best determine where the problem is.  We also provide reports about what is happening on the customer's network – for instance, what their web usage looks like.  With the MSx Optimum Firewall service, we maintain customer traffic logs for 4 months.
All of these things can happen at any time – day or night.  If a customer wants to make a change or just has a question, they can open a service ticket, send an email, or call the SOC team to speak with someone.
When we are managing a third-party circuit, since we are an authorized contact, TPx can open tickets if there are problems with the circuit and can work with the provider to troubleshoot the issues. This way the customer only has one company to contact and doesn't have to lose time by dealing with multiple parties.
Can you share some more benefits of managed services?
We deal with most issues that come up, which frees up the customer to concentrate on other areas.  In general, this is what managed services is all about.  An IT person may have general knowledge in all areas but not really specialize in one single area.  TPx has experts in all areas that we manage, and we have the systems in place to offer enterprise-level services that would otherwise not be available to smaller businesses.  Instead of hiring expensive IT people that are hard to find these days, customers can look to us to do this work.
Why should businesses choose TPx over other Managed Services Providers?
TPx is large enough to get the job done right and agile enough to get it done on time. TPx puts an emphasis on using market-leading technology while providing excellent customer service around the clock. Our services portfolio is designed to be a one-stop-shop for IT and security, so customers can eliminate the complexity and headaches that come with dealing with multiple vendors. Very few providers in the U.S. can offer a product portfolio scope of a nationwide managed services carrier like we do. Our trained and experienced staff watches over our customers 24/7/365 so that if an issue arises, it is resolved quickly and effectively. Our solutions are designed to provide enterprise-level quality and customization without an enterprise price tag.  We offer incredibly flexible cost options for customers, based on their service level needs and service commitment lengths.
Thanks for your insights, Erik!
You may feel overwhelmed with all the cybersecurity and IT pressures of today's digital environment, but there is a light at the end of the tunnel. Let us give you a hand with your IT and security – schedule a free consultation with our specialists or call 888-407-9594.
About the Author
Lucie Hys is a Senior Product Marketing Manager at TPx. She is currently leading the marketing efforts for the company's MSx suite of managed services. She has been working in marketing for more than 9 years, with the last four focusing on the cybersecurity industry. Lucie graduated with an MBA from Florida Gulf Coast University. In her spare time, she is an avid fitness enthusiast and a passionate traveler. 
Posted on: September 4, 2019 By: Carolyn Kuczynski
Technology requirements of mid-market organizations (ranging from 1K to 5K users) are becoming increasingly complex. The potential of digital transformation to redefine business models and customer experiences is gaining the attention of smaller enterprises. More specifically, companies are looking to enhance collaboration among remote workers and dispersed teams, quickly add locations and users and streamline infrastructure.
UCaaS solutions that bundle basic collaboration with additional functionality such as perimeter security and the SD-WAN flexibility can help businesses address these challenges and boost competitive advantage. Historically, however, the needs of mid-sized businesses have been overlooked. Providers have focused instead on plug-and-play solutions for small businesses at the low end, and on resource-intensive sophisticated solutions for the high end. In the process, mid-sized companies have been limited to generic, cookie-cutter solutions.
A recent white paper by Frost & Sullivan concludes that this landscape is changing.
In response to market demand and increased competition, providers are bringing a wide range of robust solutions to market, giving mid-sized enterprises unprecedented options. According to the Frost & Sullivan report, emerging capabilities include:
Advanced collaboration functionality that includes multimedia conferencing, content sharing, instant messaging and presence and mobility
Integrated UCaaS and contact center as a service (CCaaS)
Greater service reliability and stronger SLAs
Improved security posture and compliance to regulatory requirements
Enhanced service provider implementation and support, specifically in the areas of assessment, professional and managed services
Flexible APIs and greater third-party software interoperability, enabling true customization and tighter multi-vendor integration
Broader selection of communications endpoints, including desktop and DECT phones, conferencing devices, headsets, PC and mobile soft clients
So the good news is that mid-market enterprises now have more choices than ever when it comes to UCaaS functionality. The challenge now, of course, becomes making the right choice.
One potential pitfall is to select an overly complex solution that requires extensive internal resources to manage. Focusing solely on price, meanwhile, can have the same result, since bare-bones functionality typically requires greater oversight. These poor choices, meanwhile, can result from a lack of understanding of available options, or of the potential of available functionality.
In other words, customers often don't know what they don't know about UCaaS
Mid-sized businesses that have tested the waters of UCaaS can be particularly susceptible to this trap. Buyers whose experience has been limited to sub-optimal technology are likely to have a low bar of expectations. If the tools work at a basic level, the thinking goes, that's about all you can hope for. The idea that the tools might work much, much better doesn't seem realistic.
In today's environment of rapid technology innovation, that mindset can result in significant missed opportunities to leverage UCaaS to reduce costs, streamline operations and enhance collaboration across the enterprise. To avoid the trap, businesses exploring UCaaS options should take a rigorous due diligence approach with potential providers. Specifically, they should demand that technology partners invest the time and resources to assess and truly understand business issues and priorities.
Based on that understanding, providers can better explain – and customers can better understand – the art of the possible with today's UCaaS solutions.
Posted on: By: Carolyn Kuczynski
In this two-part blog, we will explore and define Recovery Time Objective (RTO) and Recovery Point Objective (RPO). In part one, we will examine RTO (Recovery Time Objective).
What is RTO and RPO?
Recovery Time Objective and Recovery Point Objective may sound alike, but they are entirely different metrics in disaster recovery and business continuity management.
Calculating your RTO and RPO allows you to plan accordingly with the proper resources, before you need them. In this blog post, we will examine RTO and clear up any confusion.
RTO: Recovery Time Objective
RTO dictates how quickly your infrastructure needs to be back online after a disaster. Sometimes, we use RTO to define the maximum downtime a company can handle and maintain business continuity. This is often a target time set for services restoration after a disaster. For example, a Recovery Time Objective of two hours aims to have all servers with that RTO back up and running within two hours of service disruption notification.
In the case of a healthcare organization for example, they might ask themselves the following questions when determining RTO for their applications and data:
For hosted email servers: How long can we go without accessing our email without impacting the business?
For patient record storage: How quickly do we need to provide access to patient records to maintain compliance?
Operational applications: Which servers are critical to business operation? How quickly do we need each restored before serious impact to the business?
Depending on your business requirements, you may need better RTO for certain data and applications. With lowered RTO comes an increase in cost, though. Companies must balance downtime with business impact to ensure the RTO is appropriate. Whatever RTO you choose, it should be cost-effective for your organization.
Whether you need geographic redundancy, virtual backups, or a combination of the two, Data Canopy can help you develop the plan that keeps your business running when disaster strikes.
Ensure mission critical data is secure and available in the event of an emergency with a disaster recovery plan and solution designed for your business. Data Canopy offers geographical redundancy from data centers nationwide, full encryption and corruption detection capabilities, and virtual server backups for seamless fail-over in the event of an outage.