Posted on: June 19, 2019 By: Carolyn Kuczynski
Whether you work in a multi-hospital healthcare system or a private dentist's office, protecting personal health information (PHI) is essential. HIPAA's rules and requirements are clear — no matter what, PHI must be kept completely confidential.
This has become increasingly important as more and more health care providers (or "covered entities," in HIPAA language) use the cloud to store data and run software. Among other things, this means the vendors who provide those services must be certified HIPAA-compliant.
What does that mean for a cloud service provider? Or for a vendor offering business VoIP services? What if the data is encrypted so that cloud providers? Do they still need to be certified HIPAA-compliant? What is their responsibility when security breaches occur, or during natural disasters? What happens to the data when a healthcare provider terminates the vendor relationship?
Is your head spinning yet? Obviously, using a third-party to handle sensitive patient data requires a lot of careful thought.
HIPAA: The Basics
The Health Insurance Portability and Accountability Act (HIPAA) requires healthcare providers and their vendors to establish three types of controls when handling PHI (or "ePHI" for electronic patient data): administrative, physical and technical. Policies and procedures are examples of administrative controls. Protecting hardware is a physical control. Implementing data encryption is an administrative control.
Covered entities need technical vendors that offer multi-layer security frameworks with physical and technical safeguards enforced by stringent administrative policies. They should be certified HIPAA-compliant and offer a Business Associate Agreement (BAA). Thus, as a best practice, it's a good idea to work with vendors who offer HIPAA-compliant solutions like MiCloud Connect, built on Google Cloud.
Business Associates
In fact, the law is quite clear when it comes to the responsibility of third-party vendors like cloud providers providing technical services to healthcare providers. The Guidance on HIPAA & Cloud Computing published on HHS.gov explains the obligations of Business Associates [italics ours]:
"When a covered entity engages the services of a CSP [cloud service provider] to create, receive, maintain, or transmit ePHI (such as to process and/or store ePHI), on its behalf, the CSP is a business associate under HIPAA. Further, when a business associate subcontracts with a CSP to create, receive, maintain, or transmit ePHI on its behalf, the CSP subcontractor itself is a business associate.
"As a result, the covered entity (or business associate) and the CSP must enter into a HIPAA-compliant business associate agreement (BAA), and the CSP is…directly liable for compliance with the applicable requirements of the HIPAA Rules.
"If a covered entity (or business associate) uses a CSP to maintain (e.g., to process or store) electronic protected health information (ePHI) without entering into a BAA with the CSP, the covered entity (or business associate) is in violation of the HIPAA Rules."
The bottom line: Any vendor you choose to handle your ePHI must provide a BAA that spells out in detail each party's responsibilities. The agreement can specify how the data will be used, stored, protected and transmitted; what will happen in case of a security breach or natural disaster; disposition of data at termination of contract; and any other requirements or conditions the covered entity deems important.
In addition to the BAA, clients can include provisions in a Service Level Agreement (SLA) to address HIPAA concerns, such as backup and data recovery. Whether you're concerned about a hack or a natural disaster, ask the vendor what plan it has in place to protect and recover your data.
Use the SLA to specify the vendor's security responsibilities. HIPAA regulations require that both covered entities and business associates abide by the Security Rule. Even when clients control access to the data via encryption, vendors still must be HIPAA-compliant. Consider requiring vendors to demonstrate how they remain current with the latest encryption standards.
As part of the agreement, be sure to cover what happens when the relationship ends. How will the data be returned to the healthcare provider? Under the Privacy Rule, HIPAA regulations require business associates to return or destroy all PHI at a contract's termination.
HIPAA Certification
When evaluating vendors, look for partners that are certified HIPAA-compliant. Confirm that they've engaged a third-party organization to verify their compliance using the most recent Office of Civil Rights (OCR) Audit Protocol. Since HIPAA rules can change over time, certification is not a one-time deal.
All covered entities are responsible for their HIPAA compliance and open to audit. Consequently, your vendor should conduct regular internal checks. Ask each prospective partner how often it audits their processes and procedures.
Also, find out if the vendor has an internal, dedicated information security team responsible that monitors and HIPAA protocols on an ongoing basis. And make sure the vendor's employees receive ongoing training to keep up with changes in HIPAA rules.
Risk Analysis
Whether you're a healthcare provider or a business associate, HIPAA requires you to conduct risk analyses of potential threats and vulnerabilities to ePHI.
A recent study by CynergisTek found that third-party vendors were responsible for 23 percent of 2018's healthcare data breaches. One reason: Many providers lack processes to address – and predict – risks.
David Rauschendorfer, senior director of CynergisTek's Security Services Operations, highlights this finding. "Vendors lack activities that identify threats as well as the potential business impacts of identified vulnerabilities," he explains. "These high-risk vendors often lack established or formally documented methodologies to prioritize and address identified risks."
Ask your vendor about its procedures for not just protecting ePHI, but also identifying potential threats and vulnerabilities. You always want to be proactive, not reactive.
Breach Notification
If a security incident does occur, HIPAA is quite clear on the vendor's responsibilities. The Security Rule requires business associates to "identify and respond to suspected or known security incidents; mitigate, to the extent practicable, harmful effects of security incidents that are known to the business associate; and document security incidents and their outcomes." The Breach Notification Rule spells out the content, timing and other requirements for business associates to follow when reporting incidents to the covered entity.
Ask each potential vendor what policies and procedures it has in place to address and document data breaches or an attack on its systems. In particular, how does it discover data breaches? How does it identify the problem's source, and what remediation steps does it take to limit damage? Require specific timing for notification and resolution.
All Secure In One Place
When choosing your cloud vendor, consider how it will enable your organization to access and use essential patient information while remaining compliant with HIPAA regulations. Ultimately, you have to store information in a way that's both secure and accessible so that medical professionals can share and collaborate while patients can manage their healthcare.
Posted on: May 22, 2019 By: Carolyn Kuczynski
By: Rebecca Rosen, VP of Marketing
When a small to medium business (SMB) turns to you for a new, cost-effective business phone system, point them to the cloud.  Giving your customer the power to communicate internally and externally on any device, at any time is powerful.  A cloud PBX, quite literally, puts their business success at their fingertips.
All verticals – from retail, and technology, to advertising – benefit from moving to a cloud business phone system.  Cost saving, 24/7 access, reliability, and continual seamless technological advances will keep your customer relevant in their field and you relevant as their communications partner.
Let's start by defining for your customer what a cloud PBX is and then take them through the top 4 reasons it can change the way they do business.
Cloud PBX by any other name, sounds just as sweet.
Many customers in the SMB market have a vague idea of what "the cloud" is and look to you to navigate the path through the fog.  Sometimes the simplest definition is the best, cloud-based business phone systems are VoIP (voice over Internet protocol) phones that are accessed over the internet and hosted in an off-site data center. Other terms we often hear are hosted PBX, hosted VoIP, and cloud PBX.
Cloud phone systems are not magical nor a silver bullet.  With the right VoIP ready network configurations and planning though, it can give your customer the technology edge they need to take their business to the next level.
4 reasons SMBs thrive in the cloud
  Your clients are changing and growing. With growth comes the need to quickly adapt the way they communicate to meet the needs of their customers.
Here are four reasons the clients you're talking to already want cloud phone systems; even if they don't know it yet.
1. SMBs want to save money.
Cloud communications are much more affordable than traditional analog offerings. Your clients will no longer have to pay expensive fees for unlimited local, long distance, and international calls.
Companies that move to the cloud also save money on infrastructure and maintenance costs. As technology evolves and equipment depreciates, on-site business phone systems are not only expensive but also need to be upgraded on a regular basis. An onsite PBX phone system, for example, requires upfront costs for installation, equipment, service arrangements, as well as IT costs for ongoing maintenance and troubleshooting.
However, a cloud communication system is free of these costs because they are hosted by a service provider. Companies can say goodbye to upfront equipment costs as well as hiring in-house IT personnel. What's more, your clients will also save on monthly phone line charges.
2. Customers want remote control.   
One of the main benefits of having a cloud-based business phone system is that your clients receive remote access. Having remote access is ideal for companies with more than one office location and for those that have remote employees.
Working from home is more common than ever before and a remote workforce requires remote control. With cloud communications, customers can communicate with teams and clients no matter where they are with their IP phone or softphone app. This means that they also have access to critical business software while on the go. With a communications system in the cloud, companies can run operations smoothly while providing a consistent presence regardless of the environment.
3. Businesses want reliable phone systems.
Internet downtime costs SMBs a lot of money and chances are your clients have already experienced an outage or two. With the cloud, businesses don't have to worry about power outages affecting operations and sales ever again. Cloud-based communications platforms are reliable due to geographic redundancy, having several servers in multiple locations so that even if there's an issue at a single data center, it won't impact service. This is important because even if there's a fire, storm or another disaster, a power outage in your client's location won't affect their ability to stay connected to teams and customers.
4. Customers want fully integrated communications systems. 
The cloud makes it simple for clients to pick and choose communications features beyond business phones. Today's small businesses want all of their tools and communications in one web-based application, which has been shown to help increase business efficiency and productivity.
For example, a fully integrated communications system can combine telephony, UC, collaboration and virtual call center features all in one platform. And the best part is that as new technology emerges, clients don't have to purchase new software or hardware to keep up with the times. Instead, cloud communication systems can automatically adapt and update.
Demystifying the cloud
Ultimately, relating your customers every day needs to the powerful concepts the cloud can offer will strengthen your relationship.  For some SMBs, moving their phone systems to the cloud will be their first step in moving technologically forward – putting the power for growth in their hands and yours.
Want to learn more about Broadvoice? Click here to see your local Broadvoice channel contacts and learn a bit more about us.
Posted on: April 19, 2019 By: CNSG Marketing
By: GAETANO DINARDI of Nextiva
Work remote often? We've got you covered with 25 of our favorite working from home tips for you to implement into your daily routine. Working from the comfort of your couch, home office, or bed, offers flexibility and work-life balance that most professionals desire.
After all, who wouldn't want to work whenever they wanted, on the couch in front of the TV in their PJs with a laptop?
Spend more time with their children?
Or have more home time in general?
Although working from home seems like the ultimate luxury, most professionals forget about one crucial element: productivity. Working from home is great, but it can be a real drag if you struggle with staying productive.
So, Here Are Our Top 25 Working from Home Tips
1) Build a Permanent Work Space
The first step in your "work from home" journey is to designate an area of your home specifically for work.
This could be an empty or spare bedroom that you convert to a home office. If you are pressed for space, you can set up a desk for your computer and office supplies.
Regardless of space or location, establish an area of your home where you will work, and commit to working in this space every day. Be sure your work space is comfortable (especially in any season) and enjoyable, and where you can work quietly when needed.
Related: 33 Ways to Improve Work Performance (+Bonus Tips for Managers)
2) Invest in Technology
Yes, setting up a home office or work space may require a small investment. Much like starting a new business, you may have to purchase technology, such as a desktop, laptop, tablet or phone system to do your job every day.
Depending on the nature of your work, you may also need to purchase applications, hardware, and/ or software. Our recommendation?
Invest in whatever you need to comfortably and easily do your job.
3) Invest in Comfortable — and Functional — Office Furniture
You may also need to invest in office furniture, if you haven't already. Depending on the amount of space available, consider purchasing a large desk, bookshelves, and a comfortable office chair.
Remember, the point is that you will be working in this space every day.
So, be sure to purchase comfortable and functional furniture, including ergonomic furniture or equipment, if needed.
4) Set "Work Hours"
Now that you have your office or work area set up, it's time to get down to business — literally. If you are going to make working from home an everyday affair, then set specific business or work hours.
The beauty of working from home is that you can be flexible in setting your own working hours. For example, if you are most productive in the morning, or if you need to get the kids off the bus at 3:00 pm, then you may want to set your work hours from 7 am until 3 pm.
Regardless of your schedule, be sure to establish set work hours to follow each day. Be sure to also communicate your work schedule to colleagues, staff, and your boss, if you have one.
5) Avoid "Work Creep"
Some people believe that a work from home career can be invasive in your personal life. This is because if you are constantly home and near your work, then your work will begin to creep into your home life. Yes, the risk is real, but only if you let it…
This goes back to setting work hours. By setting specific work hours and sticking to them each day, then you can manage a healthy work schedule. When your work day is over, whether that is at 3, 4, 5 or 6 pm, shut your laptop and shut your office door and leave it behind until the next day.
6) Discover Your Peak Productivity Periods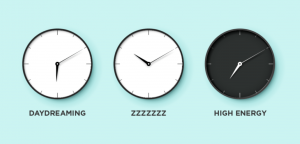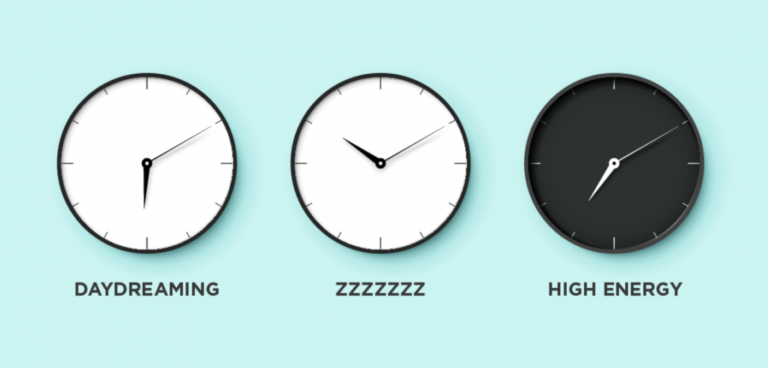 Every individual and professional is most productive at different times of the day. For example, some individuals are "morning people" and they are most productive, alert, and focused during the morning hours. Others are more productive in the afternoon and evenings.
The point here is to discover when you are most productive and build your work schedule around your peak productivity periods. (More tips on this point to come later in this article.)
7) Make To-Do Lists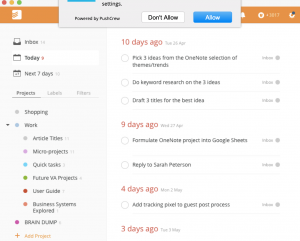 When you work from home each day and you don't have a boss breathing down your neck, it can be challenging — and sometimes overwhelming — to keep track of what you have to do each day. It's easy to lose sight of priorities, tasks, deadlines and even the little things.
In order to stay on task, quickly write down all the things that need to get done at the start of each day. If your list is quite lengthy, then set goals and time limits for accomplishing each task. After you complete each task, cross it off the list. This simple technique is both effective and fulfilling.
8) Use a Planner
In addition to making to-do lists, get into the habit of using a calendar or planner. For example, if you work from home some days but you are on the road others, get in the habit of using a planner to write down and keep track of deadlines, appointments, and meetings.
9) Use Task Management Apps
If you aren't a "write-it-down" to-do list or planner person, don't worry—there are plenty of digital calendar and task management apps available that can still help you.
Some top task management and calendar apps include:
Most of these apps offer both web-based and mobile versions, so you can download them to your phone. Some can even be integrated with other apps, such as Slack for team collaboration. And the best part? Most of these apps offer a free version.
10) Don't Work in Your PJs
We know — this is one reason why people love working from home. If you love working in your PJs, then you are probably killing your productivity.
Even if you don't have to leave the house, make it a point to set a morning routine and stick to it. Therefore, when you are ready to sit down to work, you will be mentally and physically prepared for the day.
11) Don't Work in Front of the TV
This is another productivity killer. Although you might treat "working from home" as really a "day off" that involves your couch and Netflix, glancing at your laptop from time to time, making this a habit will not get you very far.
Again, as mentioned above, treat your work day as just that: a work day. Avoid the TV and other distractions so you can focus on your work and getting things done. If you need the TV on as background noise, then do so, but avoid looking at it every few minutes. If you find that the TV is distracting you, shut it off and try listening to music or using a sound machine instead.
12) Stick to a Morning Routine
Another enjoyable perk of working from home is not having to get up, rush out of the house, and commute to an office. However, working from home doesn't mean you get to skip your morning routine altogether. You should still set an alarm, get up early, take a shower, grab coffee and breakfast, and prepare your lunch, just like you have to leave the house.
13) Set an Alarm
Even if you don't have to be up as early to leave for the office, you should still set an alarm and commit to getting up at a certain time each day. This will prevent you from sleeping in too late, and will keep you on a healthy sleep schedule.
Human beings are creatures of habit. We are incredibly dependent on routines, schedules, and structure. Therefore, by setting an alarm, following a strict morning routine, and setting specific work hours you will be healthier, more focused, more alert and more productive. Remember, a healthy body is a healthy mind.
14) Exercise
If your day allows, take a lunch break and go for a walk, go to the gym or stretch. Exercise naturally boosts endorphins, which increase happiness, enjoyment, and interest levels, all of which are important for productivity.
If you are an early-morning jogger or gym-goer, then work that into your routine each day. And, if you want to make exercise a habit, or become an early-morning exerciser, but struggle with getting out of bed, set an alarm across the room so you are forced to get up out of bed to shut it off. You can also leave yourself motivational sticky notes by your bed, so they are the first thing you see and read in the morning.
15) Eat a Healthy Lunch or Snack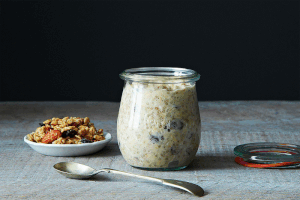 Another work from home reality is that we have full access to the kitchen. So, when it's time for lunch or a snack break, we are immediately drawn to the usual snacks, such as chips, chips, cookies or leftover pizza. When we work in an office, we are at the mercy of whatever is available in the cafeteria or whatever lunch we brought from home.
However, research has shown that eating fruits and vegetables has a direct link on overall productivity levels. If you are an avid snacker, then make it a point to make yourself a healthy lunch, just as you would if you had to go into an office. You can also avoid buying unhealthy snacks altogether.
You can also reward yourself with a sweet snack on Friday after a long, successful, and productive week.
16) Take Short Breaks
Although we have focused most of this article on how to stay productive while working from home, sometimes the opposite can happen. We think that by working from home we will be able to get more done because there are less distractions. Therefore, sometimes we end up over-committing and working too much, which also kills productivity.
You can easily avoid this by working short, five-minute breaks into your daily schedule, or even make them a part of your "rewards system". Although taking breaks might seem counterproductive, research has shown that taking short breaks can actually increase productivity and creativity levels.
17) Use a Rewards System
We mentioned using a rewards system in the point above. This is an easy way to help you get things done — even the things you have been procrastinating or putting off.
For example, take a five-minute break to go for a stroll through your neighborhood, grab a healthy snack, take your dog to the park down the street, or switch over the laundry once you finish a phone call or complete a difficult task or deadline.
Although it seems simple, using a basic rewards system will help you get things done and also feel fulfilled.
18) Do Use Productivity Apps
If you struggle with staying on task while working from home, even if you have already tried some of the tips above, then you may need to kick things up a notch and use a productivity app.
For example, some productivity apps will track the amount of time you spend on each task, and even minimize distractions. Some examples of these types of apps include the following:
Even if you work for yourself, and you do not need to report time to a manager, using a time tracker app will help you see your productivity levels each day and week. This will not only provide you with insight as to when you are most productive during the day, it will also show you how much time you spend on each task.
If you are spending too much time on a particular task, or more than what is necessary on repetitive tasks, then it may be time to look into some automation solutions for even more productivity!
19) Stay Off Social Media
I think we can agree that we are ALL guilty of this one from time to time — or every day. Social media can be a giant time suck if you aren't careful. In fact, studies have shown that the average adult spends nearly nine hours per day on social media.
That is more time than most people spend sleeping or working! Furthermore, according to an article recently published by CNN, Facebook and Instagram now reveal to users how much time they spend in each app.
If you are a social media addict, then make it a habit to shut off social media notifications during the day, if possible. This will help avoid distractions, so you can focus on getting more done.
20) Listen to Music
Okay, so you shut off social media and the TV, and you are sitting at your desk and focused on your work. But, now it's too quiet.
Listening to music while you work can help boost productivity levels and even enhance creativity.Even if you aren't a huge music fan, studies have shown that listening to soft, classical music while you work can help improve focus.
Check out this afternoon energy boost playlist on Spotify >>>https://open.spotify.com/playlist/0Vjhah37el0Aq5yoRaujBz
21) Leave the House
You just invested time and money in setting up a designated work space or home office, and now we are telling you to leave the house? Yes and no.
Leaving the house on occasion can give you a change of scenery, which can help boost creativity and productivity. If you need a slight change of pace, try working in your backyard or at a nearby coffee shop.
22) Use Video Chat
Interact with others! Working from home every day can get pretty lonely, especially if you are single or live alone. Make it a point to chat with colleagues, team members, or clients each day.
Video chat is a great way to stay connected with other human beings. There are also a number of video chat applications available today, such as:
Skype
Zoom
UberConference
Google Hangouts
Depending on the nature of your work and your position, you could end up spending almost all of your day on calls. If you spend a lot of time on the phone or in video conferences each day or week, then set aside time in your schedule each day for calls or video chats.
23) Use Your "Lunch Break" for Errands and Appointments
If you work from home each day, then you have a ton of free time to do what you want and go where you want, right?
Maybe, but we don't recommend that. Structuring your day is important. If you need to run errands, or schedule the occasional doctor or dentist appointment, try to schedule them for your "lunch break", just as you would if you worked in an office.
24) Avoid Family, Friends, and Pets
This can be difficult, especially if you have young children at home, or have multiple pets, all of whom want your attention. If you are home all day, every day, then family and friends might think that they can show up whenever they please.
Of course, you probably welcome and enjoy the company, it's important to remember that this is your work time. Be sure to set and stick to specific work hours and clearly communicate those hours with your family and friends.
25) Create a Vision Board
If you have been working from home for several years, and have mastered most if not all the points above, then you working from home might be becoming boring, dull or stale. You might struggle with sticking to your schedule, or enjoying your work.
If this sounds all too familiar, then it might be time to take a step back, re-evaluate your business or work, and then approach it from a different angle.
A vision board can help. A vision board is just that: a board that you can use to write notes and post pictures of your dreams and aspirations. The visualization aspect of a vision board is a great and powerful mind exercise. It can help you feel the way you want to feel. This could help you get out of your work from home slump, and pave a new, clear path to productivity and success.
Start putting these working from home tips into effect today to streamline your routine and increase your productivity.
Posted on: April 12, 2019 By: CNSG Marketing
By: David Portnowitz of Star2Star
The global communications landscape is changing significantly, with the internet of things (IoT) and artificial intelligence (AI) both growing at remarkable rates. If you're not already familiar, IoT stands for "Internet of Things" and is the industry term for this era's "smart" devices including smart phones, appliances, cars, and other items we use every day. AI is more widely known, and often characterized as an intelligent robotic persona. With the prevalence of Siri, Cortana, and Google Assistant, almost everyone who has ever used a smart device has also experienced AI.
Breaking Down The AI and IoT Trends
In 2015, there were about 15.4 billion connected devices in existence; by 2025, this figure will swell to 75.4 billion. 77 percent of consumers are now using at least one AI-powered device or service. Oftentimes, customers engage with AI without even realizing it.
Related: What You Need To Know About Chatbots
As global communications are changing, contact centers are being forced to keep up with the pace. The contact center, after all, is one of the most important touchpoints for customer communications and businesses are being challenged to update their technologies as well as their customer service strategies.
Related: The Communications B2C Customer Experience
The AI Emergence
AI is being used in a few different ways in the contact center. First and foremost, AI has emerged as a major driving force behind interactive voice response (IVR) systems and chatbots. In the past, automated conversations were very basic. But thanks to AI, bots can expand beyond rudimentary conversations and respond accurately to complex customer queries. For this reason, there is growing interest in using AI-powered bots to provide self-service throughout the day, and after hours.
Related: 3 Key Ways AI Impacts UC
Now, a gap is growing between companies that are actively using AI in the contact center and companies that are not; companies that are using AI can provide much better self-service by reducing on-hold times, lowering costs, and streamlining conversation flows for agents. Companies that refuse to embrace AI will fall farther behind the competition in the coming years. Businesses are therefore strongly advised to work AI into their customer-facing processes.
Related: 10 Reasons Businesses Are Switching To UC Cloud Services
We are also seeing more and more companies deploying AI for intelligent call routing. Routing decisions that used to rely primarily on basic input data (like a customer's language, location, age, and purchase history) are now being enhanced with real-time intelligence engines. AI can pull data from a wider pool, and combine that information with additional characteristics (like a caller's mood) to put a customer in touch with the right associate.
Related: UC Solutions For Every Industry
Contact centers, it should be noted, are also using AI to collect real-time threat intelligence, in order to prevent fraud during interactions. Many businesses now use AI in the background to gather data and flag suspicious activities.
The IoT Impact
The IoT, meanwhile, is having a major impact on the way that businesses approach customer service. First and foremost, companies now have access to much more data than they had in the past. Connected endpoints can provide a wealth of information that can be analyzed to better understand the customer experience. Contact centers should have access to this information, in order to provide relevant service.
Related: Key Market Drivers In Cloud Communications
This, of course, also means that agents need to be better prepared to handle technical questions. Many contact centers are now providing additional training for agents, to get them up to speed.  According to one study, 67 percent of respondents said their contact centers trained associates to handle customer interactions differently due to connected/IoT technologies. Twenty-three percent of contact centers, it should be noted, hired associates with different skill sets to support IoT technologies.
Related: Top 10 Technologies That Changed Business Communications
While it's important to have a working knowledge of IoT and an AI-driven customer service strategy, it's important to remember the third component to an advanced contact center: A robust unified communications (UC) platform. It all comes together with UC, which can serve as a centralized environment where agents can access incoming messages from any device and leverage the support of AI and IoT services.