Posted on: August 7, 2019 By: Lauren Epperly
There's a reason the word "hold" shares 50% of its letters in common with that hot place with the Devil. Both are H-words we'd prefer to avoid. Call back solutions provide an effective way to save your customers from the fiery frustrations of sitting on hold. There are many benefits to this service which improves efficiency for both your business and your callers.
About Call Back Solutions
We've all heard the message "your call is important to us." It's often paired with the automated voice telling us that the business we are trying to reach is experiencing unusual call volumes at this time. Utilizing a communications platform that offers queue management informing callers of their estimated wait time can help. Yet today an even greater number of callers want to enjoy the convenience of entering their phone numbers for a call back instead of remaining on hold interminably.
First introduced in the mid-1990s, call back solutions provide customers with the option to leave their number and name for a return contact, without losing their place in queue. It's a simple way of saying to the customer you value their time and want to provide them with the best customer service possible in a streamlined way. Here are the many advantages of this call center technology feature.
Advantages of Call Back Services
Time is on their side.
By providing the queue callback option you are giving your customer back one of their most important and highly limited resources — time. In 2012, a survey of 2,500 customers found that nearly 60 percent of respondents believed "one-minute is too long to be on hold." We can only imagine how many seconds have been lopped off that tolerance in the intervening six years of on-demand digital responsiveness.
The appeal of choice.
Call back solutions also empower customer choice. They can elect to stay on hold if they'd like to, but now there is another option. Either way, your agents are going to work hard to meet the customers' needs. Yet now the customer regains control of the communication and doesn't feel as if they have been taken hostage by Zamfir music fans.
Better moods = better interactions.
With call back services the customer gets a return call when an agent is available to address the concern or question. This gives your agents a better starting point as they no longer start the call trying to placate people angry about the hold delay or the aural assault of hold music or repeated brand messaging. The technology, too, can use the call back number to link into other customer history records to have the agent begin from a more knowledgeable position from the get-go.
Level out call volume.
Call back solutions help your business defer calls until volumes are more manageable. With this technology helping you better manage call spikes, you can improve call center productivity and optimize call handling to ensure the customers get the best experience possible while agents are buffered more effectively from the onslaught of overwhelming traffic loads.
Handling calls gets easier.
When an agent does finally get on the line with someone who has been on hold "too long" they will often get an earful. The customer needs the release of complaining about their negative experience. This not only makes the interaction more challenging but also hurts your agents' call handling times. Your agents can be more efficient when customers feel heard and empowered.
Lower call abandonment rates.
Finally, call back solutions also lower the number of callers hanging up in frustration. A long wait time can cause someone to end the call and then try again later. Those recalls can negatively impact call volume handling all over again. Worse still, the customers may simply take their business elsewhere, without your customer agents even getting a chance to make a positive impression and provide excellent customer service.
Learn more about the benefits of call back solution with our Queue Callback Savings Calculator. Evolve IP's experts are available to help you optimize your customer experience by offering callers the ability to request a callback based on your call center conditions. Learn more today!
Posted on: July 31, 2019 By: Carolyn Kuczynski
It can be hard enough to find, let alone establish a voice for your business, so using it should be the easy part. The last thing you need is anything standing in the way of connecting with customers and employees.
At WOW! Business, we believe your customers, employees, and partners should never have to work to stay connected. It's why we focus on providing businesses with personalized service and technical options that can be tailored to fit their specific needs. Our flexible Business Voice and traditional phone service packages offer secure, reliable and feature-rich voice solutions through a selection of calling plans. Read on to learn how we can help you maximize performance and minimize costs.
Business Voice
Our traditional voice services come with unmatched service, reliability, and robust tools at an affordable price. Power up your business and deepen your connection to customers by making your business more accessible with our advanced calling features, flexible packages and the security of our private, advanced network.
We've made it easier than ever to find the right voice package for your business. Whether it's our Basic Phone Package covering essential everyday needs, or our Complete Package with all the advanced communication services you want, including 25 calling features. 
Features Include:
Call Waiting
Call Forward
3-Way Calling
Caller ID
Voicemail
Clarity of Digital Voice
Unlimited domestic long distance
Hunting/Rollover
Virtual Office
Priority Alerts
Business CommPortal
Hosted VoIP
WOW! Business Hosted VoIP offers a vast array of scalable, easy-to-manage features and capabilities that support your business at a fraction of the cost of an on-site phone system. And with its highly flexible infrastructure, it can grow as fast as you. Plus, we've gone over the top! We'll install VoIP both on and off our network so even if your customers aren't already WOW! Business Internet users, they'll still get reliable WOW! voice functionality.
Features Include:
Ability to connect phones across multiple sites
Premium Auto Attendant offers up to 30+ options for directing a call—choose options based on times of day, days of the week, and more
Desk phones from PolycomTM (several models to choose from, including a conference model) or use our softphone clients to connect your computers or mobile devices anywhere in the U.S.
Programmable keys for most commonly used features—no need to remember star codes
Dedicated data connection for your phone
Administrator functionality to configure business-level features
Hunting Groups
Music-on-hold to play music or advertising messages to your customers and prospects
Posted on: July 29, 2019 By: Carolyn Kuczynski
By Evan Wade
Most of the time, technology moves in a straight, iterative path.
Rarely, however, an up-and-coming solution bucks the trend, doling out features and innovations in such quantity that it skips several links on the evolutionary chain — and Vonage's Number Programmability, currently in beta, definitely falls in this category (if we do say so ourselves). If that statement sounds a little strong, Number Programmability backs it up.
Representing a combination of some of the top products and services in Vonage's current portfolio, it culminates in the ability for any Vonage Business Cloud number to be leveraged by Nexmo's application programming interfaces (APIs) to meet virtually any business communication need.
What is Number Programmability?
Number Programmability isn't exactly a product or a solution — it's a capability.
Leveraging Nexmo APIs, Number Programmability enables any Vonage Business Cloud phone number to be intelligently programmed so that it becomes much more than a number.
Your VBC number can become:
A Robot-Enabled Meeting Scheduler –

If you're unable to take a call, the caller can answer a few prompts and schedule a call back at your next available time, all thanks to a simple integration with your cloud-based calendar.
An Automated Virtual Receptionist –

An automated virtual receptionist that can route a call according to the time of day or the number of the incoming call.
A Real-Time Translator –

When integrated with any translation API, a programmed number will use artificial intelligence (AI) to recognize if a caller is speaking a different language and give you a word-for-word English translation.
An Intelligent Transcription Service –

An intelligent transcription service that immediately begins taking notes on the call and auto-uploads the notes to the right customer or prospect account in Salesforce or another CRM.

 

Think of the potential for your contact center!
These are only a few of the infinite possibilities that Number Programmability enables. Using the power of communication APIs and a little imagination, you can program your Vonage Business phone number for major types of customizations with just a few lines of code.
Number Programmability is also broadly adaptable, with cloud-based architecture providing countless features to the end user's communication devices.
In this way, it's immensely scalable, allowing businesses to add different types of functionality to one line or one thousand. It's highly integratable, too, connecting to a large, growing list of products from Vonage partners, such as CRMs and business applications like Salesforce and Jira or AI platforms like Watson and Google.
Best of all, this kind of evolutionary improvement isn't a far-off pipe dream. It's in beta now, with GA launch anticipated later in 2019. 
Productivity Booster, Experience Enhancer
With Number Programmability, every aspect of your Vonage Business Cloud phone number becomes customizable: If you can dream it, you can build it. And with Nexmo APIs as building blocks, virtually any type of unified communications solution can be developed to support a business' unique needs. 
The highly flexible nature of Programmable Numbers provides serious potential to boost internal productivity by automating existing processes or workflows. 
Need to record specific words during a phone call for compliance? That's no problem with a Nexmo Voice API, Call Recording, and Natural Language processing. Want to route calls to specific agents based on who's calling, before anyone even picks up?  
Or even better: Want to have certain VIP callers hear different IVR options? Done, with a simple CRM integration, Nexmo Voice API, and a little programming logic – and and it's even better with a bot who understands natural language.
We can think of many use cases where Number Programmability removes the need for tedious steps in a process or workflow through automation.
By eliminating unnecessary, time-consuming work, employees are freed up to focus on work that's more profitable to the business.
Other use cases make it effortless to elevate the customer experience, which has its own rewards: improved NPS scores, more first-call resolutions, happier and more loyal customers. Depending on your goals, Number Programmability can make it happen.
Infinite Flexibility, Easy Deployment
The possibilities are endless because Number Programmability takes all unified communication features out there and brings them together in the cloud, all in one tech stack. There's no need to decide whether to invest in a certain feature or package. Instead, you customize, build, and deploy distinct capabilities to match your exact business needs. And it's easy, too, because you're using Nexmo communication APIs as programmable building blocks. Your team only needs to add a few lines of code to deploy highly customized capabilities.
No matter what "connection" means to an individual business, the Vonage Business Cloud platform provides an easier way to achieve it when combined with Programmable Numbers.
And this is just the start. As Number Programmability rolls into full-blown release, it will undoubtedly come to encompass more capabilities, including video, chat, and rich messaging. This has to be some of the most exciting communications news in a long time.
Posted on: July 24, 2019 By: Carolyn Kuczynski
Customers often ask me: "Why should I migrate to VoIP? Our current voice infrastructure works perfectly fine. I'm happy with the existing PBXs that have been serving us well for the past 20 years."
That may well be the case. The upside of "good old Time-Division Multiplexing (TDM)" can't be ignored. TDM is a proven, reliable technology that works within the comfort zone of the providers that maintain these infrastructures.
On the downside, traditional telephony systems are extremely complex. They consist of a legacy PBX, SS7 telephony trunks (POTS lines) and digital ISDN services provided by carriers such as Verizon or AT&T. This setup requires extensive maintenance for the PBX, MACDs, troubleshooting and on-site technicians. In addition, ISDN service includes monthly bills, based on number of users. (One ISDN line typically serves 100 people, so you can do the math.) Apart from being expensive, the service is inflexible, as pricing doesn't reflect fluctuations in usage.
All this complexity has a significant bottom line impact. Over a five-year period, an organization – regardless of size – can easily pay 60 percent more for a traditional telephony system than for a VoIP solution. For a business with as few as ten employees, the additional cost can exceed $20K over the five-year span. Scale that to an international enterprise with several thousand users, and you're talking real money.
Compelling as the numbers are, and despite widespread awareness of VoIP benefits, many businesses remain reluctant to make the switch. One constraint is human nature and discomfort with change. Beyond the "It's-been-working-fine-for-years-why-switch?" argument, disruption is a concern. Will installing equipment take a long time? Will users have to learn to use new technology? Will customers notice a difference and be inconvenienced?
The reality is that in most instances, VoIP migration is a smooth and seamless process. The existing PBX is forklifted from the office site and replaced with Power over Ethernet (PoE) switches, IP phones and voice gateway routers with survivability features. A centralized call control system provides dial-plan and call control for the entire organization. Most office sites already have a switch and router servicing the data network. VoIP can easily be added to this existing LAN and WAN infrastructure. An IP trunking service delivers public switched access, allowing the business to communicate with the outside world with the same level of functionality as before (to, for example, order pizza for lunch).
While the transition itself is relatively painless, the challenge lies in choosing a VoIP solution that aligns with your business' specific requirements. Hosted IP Telephony systems and Unified Communication and Collaboration platforms are now a commodity and available in a variety of shapes and forms. Options include hosted IP-PBX, cloud-based solutions and customer data center models. Features range from basic IP phone and dial tone, to more complex UCCaaS solutions that include mobility clients, IM and contact center capabilities.
Choosing the right bundle of technology components requires assessing a variety of criteria, including number and distribution of locations and users, geo-redundancy, solution architecture (hosted vs cloud vs customer premise), existing LAN/WAN infrastructure and migration path. Scalability and flexibility needs are another consideration – is the business poised to expand? Do bandwidth requirements fluctuate dramatically? Defining the appropriate mix involves industry-specific business insight as well as technical expertise.
Beyond aligning with immediate needs, a VoIP solution can be an integral part of a longer-term digital transformation strategy. Specifically, Unified Communications and Collaboration platforms can support mobile apps, AI-powered virtual assistants, chatbots and visual interactive voice recognition systems. These capabilities are essential for enterprises seeking to optimize operations, drive digital transformation and deliver a more engaging customer experience.
Done right, VoIP migration can deliver positive ROI and significant cost savings, as well as support a digital journey that fundamentally redefines the way that business is done.
Posted on: July 8, 2019 By: Carolyn Kuczynski
By: David Portnowitz
Let's face it: The decision to upgrade a business phone system is never easy.
It can be a difficult process, and one that requires a considerable amount of planning and strategizing. After all, who wants to deal with a lengthy migration process and the uncertainty that comes with using new technology?
The truth is that it can be one of the most important things that you do to protect the integrity of your overall communications strategy.
Here are some signs it's time to make the leap and explore a new option:
Your Hardware Needs To Be Replaced:
All hardware eventually depreciates in quality and needs to be replaced. This is unavoidable.
For this reason, many businesses are switching to softphones, which can be easily updated when they are needed, saving a considerable amount of money.
Whatever you do, don't wait; if you need to update or replace your hardware, do it now before it continues to be a problem. You'll also make your end users happy and give them better tools to do their jobs.
Your Business Has Grown:
Chances are, your business is in a different place than it was, whether you purchased your business phone system it a few years ago or a decade ago. Now, you most likely have a higher inbound call volume.
How is your interactive voice response system handling the extra traffic? A slow or inefficient system could lead to call abandonment, or even worse, a negative customer experience (CX). If this is the case, it's time to invest in a cloud-based system that will make it easy to manage calls.
You're Expanding:
If your business is getting the opportunity to expand, this may be one of the best times to switch out and upgrade your phone system. It's very important for you to think about how you will provide your new locations with high-quality communications. Do you really want to install new physical lines into your facilities?
Instead, consider upgrading to a VoIP system which will be highly scalable and cost-effective. By leveraging VoIP, you will be able to expand into new markets with greater agility. You can have the option to scale up or down, without having to rip and replace any infrastructure, saving you time and money.
You're At Risk From Downtime:
Stop and consider what would happen if an unexpected storm were to roll into your area, impacting your connection to the publicly switched telephone network (PSTN). Your company would instantly lose access to its core phone system.
Working with a cloud communications provider will give your company guaranteed business continuity and disaster recovery. Your phone system will remain up and running no matter what happens in your local area, providing a much greater peace of mind, and ensuring you are still able to provide for your customers.
You Don't Have A Unified Messaging System:
Even if your phone has been working properly, you could be getting more out of your communications system—so much more.
Most enterprises—your competitors included—are leveraging unified communications as a service (UCaaS). With UCaaS, companies have the ability to centralize all of their disparate communications mechanisms like voice, video, fax, email and messaging into one user-friendly platform. UCaaS is now the gold standard for business communications, and it's something your company should absolutely be considering.
Also, if you're upgrading to VoIP, take our advice and conduct a comprehensive network assessment to make sure your new system will be capable of working at the desired level. Oftentimes, businesses rush into a VoIP migration only to have to retrofit their network at a later time.
Whatever option you ultimately select, don't rush into your decision. Plan ahead, and make sure you pick a system that will benefit your company the most.
Posted on: By: Carolyn Kuczynski
There has been a lot of buzz about VoIP lately. Which should not come as a huge surprise. After all, it is the next biggest thing to happen to the telecommunication industry.
And, if you let it, it can be a significant game-changer for your business, too.
But, what most are yet to realize is the amount of time we already use Voice over Internet Protocol. (a.k.a, VoIP, IP telephony, internet telephony, and Voice over IP). It's something many of us use everyday.
Every time you use your Mac or Windows computer to call someone using the internet, you are using VoIP. For instance, when you use Skype or Facebook Messenger, these are VoIP applications.
Let's learn a bit more about VoIP examples and how you're able to make those VoIP phone calls.
How Does VoIP Work?
Voice over Internet Protocol (VoIP) is not like traditional services and phones. There is no need for public switched telephone networks (PSTN). You can also say goodbye to phone lines and mobile towers.
VoIP technology uses the Internet instead.
VoIP uses IP networks to pass voice signals and send multimedia files. It is what makes various communications and VoIP applications easy for everyone.
Today, it's integrating further into how businesses operate. Making various work processes and collaborations more productive. Thus, enhancing both the employee and customer experiences.
Those already using VoIP for their business communications, understand. They use all or some of the following to experience the difference every day — VoIP provides, VoIP phone system or VoIP phone(s).
With easy setup, there is no reason why your business cannot use VoIP communications too.
VoIP offers more than phone service. Some of its features include, call forwarding, caller ID, voicemail, SMS, and video calls.
Constantly evolving and improving, VoIP even offers real-time analytics, call routing, and e-faxing.
All you need is a good internet connection. Whether it be via a direct line to the internet or WiFi.
There is no doubt, the buzz and impact VoIP is creating today is future in the making.
VoIP Technology for Communication
Introduced in 2003, Voice over Internet Protocol (VoIP) has developed over the last six years. It is now a multi-device and multi-purpose communication system.
At one time, VoIP service providers only offered an "internet phone call only service." But, with advancements in technology and VoIP itself, more options are becoming available.
Today, there are many ways your business and employees can use VoIP to communicate better.
Types of VoIP Communication
These three types of VoIP services will enhance your communication experiences.
Computer-to-Computer
Computer-to-Phone
Phone-to-Phone
The different VoIP services offer businesses options and variety like never before. It lets you make calls anywhere as long as you have a stable internet connection.
It grants your business the ability to communicate your way.
The internet is more than a place where we make search queries, it has become a modern system where we can connect with others on multiple levels.
VoIP is THE new way of doing business.
What are Examples of VoIP?
Here are the most common examples of VoIP apps:
Nextiva
Aircall
Zoiper
Skype
WhatsApp
Google Hangouts
Viber
Facebook Messenger
Google Voice
Of course, based on your need and how you use your VoIP apps, you may need to opt in for a paid or free service. The four examples below show you how businesses use VoIP phones at work.
1) A Complete Business Network
Many businesses use VoIP to communicate with employees and customers. As it has grown considerably in quality over the years.
In most instances, it no longer matters if the person you are calling is a VoIP user. Which was not always the case.
Today, it is harder for the person on the line to tell the difference between a VoIP or traditional phone system call.
Businesses continue to ditch landlines and mobile services (along with their bills). Instead, they use the Internet to make calls, i.e., VoIP, as it's more efficient, high in quality, and cost-effective. Especially, when needing to make low-cost international calls.
But, why use VoIP in the first place?
A VoIP business phone system uses the cloud. It provides employees flexibility and mobility, no matter their location.
Employees can make business phone calls using VoIP while on the go. They can choose to use their mobile phone, laptop, desktop computer, or tablet.
Whether you use Android or Apple, does not matter either. As long as an internet connection is available, businesses can communicate using VoIP.
But, that is not all. VoIP Business Phone systems go beyond just making phone calls. Business owners and employees can choose to communicate in many other ways too.
With features such as instant messaging, video conferencing, call queuing, voicemail to email, and much more.
VoIP offers even more
VoIP is a money saving option, without the loss of quality. You save due to not having to spend money on landline phone equipment and phone services.
According to Gartner, by 2020, 65% of meeting solutions users will take advantage of VoIP-based audio conferencing options embedded in those meeting platforms, up by 20%.
Working from home is now a more acceptable option. VoIP provides access to work files stored in the Cloud, as well as, video conferencing for team meetings.
The use of filing cabinets are outdated and almost extinct. And, so are the need of "four walls" offices. Your device can now be your office, and it goes wherever you go.
You no longer need to worry about missed calls or opportunities. VoIP has your back.
2) Long Distance Business Phone Calls
When you use Voice over Internet Protocol, it means you no longer need to have a landline phone with a local number to talk to people from all over the world.
Take and make work calls using your mobile device. You also have the option to use only one VoIP number when making or taking those phone calls.
No matter which hotel you are staying at or customer country you are calling, you can be reached at all times, at the same number.
VoIP gives you the ability to lower the huge costs you are used to paying when it comes to international calling, by providing better rates.
Not only can you switch from landline phones, but you can also say your goodbyes to the enormous long distance phone bills that come with them.
3) Business Text Messaging
VoIP offers you the ability to send unlimited text messages to customers and employees from your business phone number.
Again, you can choose to use only one number and be free of the extra costs that come with having multiple, due to having a phone service provider.
Simply use the internet, which is something you already have, to send and receive text messages.
It will lower your monthly costs and the multiple phone number confusion customers can experience, as well.
4) Usable Business Analytics
With VoIP, you can instantly track your business data to stay ahead of the curve. By turning numbers and charts into actionable information, you can set your business apart from the competition.
Your analytics and insights quickly become data you can use to make informed decisions on what best suits your business needs.
Offer monitoring tools to provide transparency with the services you provide, as well as, to help resolve issues faster. You can put the customer experience first.
Time to Switch to VoIP, Maybe?
Whether you choose to hold business meetings over the internet, or make customer calls. If you decide to send emails, or text messages, it's all possible with the use of VoIP.
With the use of VoIP, we are moving closer to a more unified and connected world. Welcome to the new age of communications.
These four VoIP examples of how to use the internet for business communication are only the tip of the iceberg.
Your VoIP strategy can be a needle-mover in 2019.
Once you get to know the world of VoIP, you will wonder how you ever lived in a world without it.
Posted on: July 3, 2019 By: Carolyn Kuczynski
Dealing with things we don't understand can feel uncomfortable. The first time eating sushi, for instance, can be downright awkward and overwhelming to people used to burgers and fries. But if we're open-minded and give that raw fish a try, we discover it is delicious and far healthier for us than many fast foods.
Why do I mention sushi in a blog post about hosted phone systems?
Because many business owners would rather stick with something familiar, either an on-premise private branch exchange (PBX) system or traditional landline telephone than try something new, like a hosted PBX phone system. But if you're open-minded, you may end up reaping many benefits with a hosted phone system.
In case you're wondering what exactly a hosted PBX phone system is, it's a cloud-based phone system where the vendor houses the equipment and technology necessary for the voice communications. This lessens the workload of an organization's team members because setup, maintenance, and upgrades are all handled by the vendor.
Now let's take a look at some of the other benefits:
1. Cost Savings
Research has shown that an organization can save an average of 40% on local calls alone. A small business with 30 phone lines could end up saving $1,200 per month. Do a lot of international calling? You're apt to save up to 90%. Not too shabby.
2. Flexibility and Scalability
Here's a common analog phone scenario:
You need to add a couple more phone lines to accommodate some new hires. Should be quick and easy, right? Nope. You usually have to spend time on the phone with customer service first, then wait for an available appointment to schedule an installation. It could be days or even weeks before your new phone lines are up and running.
Talk about frustrating.
With a hosted phone system you can add phone lines easily and within minutes. The flexibility and scalability of hosted VoIP are particularly ideal for organizations with seasonal fluctuations in staffing or companies experiencing fast growth.
3. Robust Add-on Features
Add-on features also tend to be flexible with hosted phone systems. This is really convenient, because a startup may need only minimum features while a larger, more-established enterprise may need more features for more integrated communications.
Some hosted phone system add-on features include:
Interactive Voice Recognition
Remote Management
Chat
Video Chat and Teleconferencing
4. Contact Center Benefits
Does your business conduct customer service over the phone? Hosted VoIP is perfect for the needs of any call center, no matter the size. Your reps will appreciate:
5. Mobility
One of the biggest benefits organizations gain by switching to a hosted VoIP system is mobility. Depending on your vendor and configuration, you can have phone calls ring simultaneously to both desk and mobile phones. You can also unlock mobile call transferring, or enable mobile failover in the rare case your internet goes down.
Posted on: June 19, 2019 By: Carolyn Kuczynski
Whether you work in a multi-hospital healthcare system or a private dentist's office, protecting personal health information (PHI) is essential. HIPAA's rules and requirements are clear — no matter what, PHI must be kept completely confidential.
This has become increasingly important as more and more health care providers (or "covered entities," in HIPAA language) use the cloud to store data and run software. Among other things, this means the vendors who provide those services must be certified HIPAA-compliant.
What does that mean for a cloud service provider? Or for a vendor offering business VoIP services? What if the data is encrypted so that cloud providers? Do they still need to be certified HIPAA-compliant? What is their responsibility when security breaches occur, or during natural disasters? What happens to the data when a healthcare provider terminates the vendor relationship?
Is your head spinning yet? Obviously, using a third-party to handle sensitive patient data requires a lot of careful thought.
HIPAA: The Basics
The Health Insurance Portability and Accountability Act (HIPAA) requires healthcare providers and their vendors to establish three types of controls when handling PHI (or "ePHI" for electronic patient data): administrative, physical and technical. Policies and procedures are examples of administrative controls. Protecting hardware is a physical control. Implementing data encryption is an administrative control.
Covered entities need technical vendors that offer multi-layer security frameworks with physical and technical safeguards enforced by stringent administrative policies. They should be certified HIPAA-compliant and offer a Business Associate Agreement (BAA). Thus, as a best practice, it's a good idea to work with vendors who offer HIPAA-compliant solutions like MiCloud Connect, built on Google Cloud.
Business Associates
In fact, the law is quite clear when it comes to the responsibility of third-party vendors like cloud providers providing technical services to healthcare providers. The Guidance on HIPAA & Cloud Computing published on HHS.gov explains the obligations of Business Associates [italics ours]:
"When a covered entity engages the services of a CSP [cloud service provider] to create, receive, maintain, or transmit ePHI (such as to process and/or store ePHI), on its behalf, the CSP is a business associate under HIPAA. Further, when a business associate subcontracts with a CSP to create, receive, maintain, or transmit ePHI on its behalf, the CSP subcontractor itself is a business associate.
"As a result, the covered entity (or business associate) and the CSP must enter into a HIPAA-compliant business associate agreement (BAA), and the CSP is…directly liable for compliance with the applicable requirements of the HIPAA Rules.
"If a covered entity (or business associate) uses a CSP to maintain (e.g., to process or store) electronic protected health information (ePHI) without entering into a BAA with the CSP, the covered entity (or business associate) is in violation of the HIPAA Rules."
The bottom line: Any vendor you choose to handle your ePHI must provide a BAA that spells out in detail each party's responsibilities. The agreement can specify how the data will be used, stored, protected and transmitted; what will happen in case of a security breach or natural disaster; disposition of data at termination of contract; and any other requirements or conditions the covered entity deems important.
In addition to the BAA, clients can include provisions in a Service Level Agreement (SLA) to address HIPAA concerns, such as backup and data recovery. Whether you're concerned about a hack or a natural disaster, ask the vendor what plan it has in place to protect and recover your data.
Use the SLA to specify the vendor's security responsibilities. HIPAA regulations require that both covered entities and business associates abide by the Security Rule. Even when clients control access to the data via encryption, vendors still must be HIPAA-compliant. Consider requiring vendors to demonstrate how they remain current with the latest encryption standards.
As part of the agreement, be sure to cover what happens when the relationship ends. How will the data be returned to the healthcare provider? Under the Privacy Rule, HIPAA regulations require business associates to return or destroy all PHI at a contract's termination.
HIPAA Certification
When evaluating vendors, look for partners that are certified HIPAA-compliant. Confirm that they've engaged a third-party organization to verify their compliance using the most recent Office of Civil Rights (OCR) Audit Protocol. Since HIPAA rules can change over time, certification is not a one-time deal.
All covered entities are responsible for their HIPAA compliance and open to audit. Consequently, your vendor should conduct regular internal checks. Ask each prospective partner how often it audits their processes and procedures.
Also, find out if the vendor has an internal, dedicated information security team responsible that monitors and HIPAA protocols on an ongoing basis. And make sure the vendor's employees receive ongoing training to keep up with changes in HIPAA rules.
Risk Analysis
Whether you're a healthcare provider or a business associate, HIPAA requires you to conduct risk analyses of potential threats and vulnerabilities to ePHI.
A recent study by CynergisTek found that third-party vendors were responsible for 23 percent of 2018's healthcare data breaches. One reason: Many providers lack processes to address – and predict – risks.
David Rauschendorfer, senior director of CynergisTek's Security Services Operations, highlights this finding. "Vendors lack activities that identify threats as well as the potential business impacts of identified vulnerabilities," he explains. "These high-risk vendors often lack established or formally documented methodologies to prioritize and address identified risks."
Ask your vendor about its procedures for not just protecting ePHI, but also identifying potential threats and vulnerabilities. You always want to be proactive, not reactive.
Breach Notification
If a security incident does occur, HIPAA is quite clear on the vendor's responsibilities. The Security Rule requires business associates to "identify and respond to suspected or known security incidents; mitigate, to the extent practicable, harmful effects of security incidents that are known to the business associate; and document security incidents and their outcomes." The Breach Notification Rule spells out the content, timing and other requirements for business associates to follow when reporting incidents to the covered entity.
Ask each potential vendor what policies and procedures it has in place to address and document data breaches or an attack on its systems. In particular, how does it discover data breaches? How does it identify the problem's source, and what remediation steps does it take to limit damage? Require specific timing for notification and resolution.
All Secure In One Place
When choosing your cloud vendor, consider how it will enable your organization to access and use essential patient information while remaining compliant with HIPAA regulations. Ultimately, you have to store information in a way that's both secure and accessible so that medical professionals can share and collaborate while patients can manage their healthcare.
Posted on: May 22, 2019 By: Carolyn Kuczynski
By: Rebecca Rosen, VP of Marketing
When a small to medium business (SMB) turns to you for a new, cost-effective business phone system, point them to the cloud.  Giving your customer the power to communicate internally and externally on any device, at any time is powerful.  A cloud PBX, quite literally, puts their business success at their fingertips.
All verticals – from retail, and technology, to advertising – benefit from moving to a cloud business phone system.  Cost saving, 24/7 access, reliability, and continual seamless technological advances will keep your customer relevant in their field and you relevant as their communications partner.
Let's start by defining for your customer what a cloud PBX is and then take them through the top 4 reasons it can change the way they do business.
Cloud PBX by any other name, sounds just as sweet.
Many customers in the SMB market have a vague idea of what "the cloud" is and look to you to navigate the path through the fog.  Sometimes the simplest definition is the best, cloud-based business phone systems are VoIP (voice over Internet protocol) phones that are accessed over the internet and hosted in an off-site data center. Other terms we often hear are hosted PBX, hosted VoIP, and cloud PBX.
Cloud phone systems are not magical nor a silver bullet.  With the right VoIP ready network configurations and planning though, it can give your customer the technology edge they need to take their business to the next level.
4 reasons SMBs thrive in the cloud
  Your clients are changing and growing. With growth comes the need to quickly adapt the way they communicate to meet the needs of their customers.
Here are four reasons the clients you're talking to already want cloud phone systems; even if they don't know it yet.
1. SMBs want to save money.
Cloud communications are much more affordable than traditional analog offerings. Your clients will no longer have to pay expensive fees for unlimited local, long distance, and international calls.
Companies that move to the cloud also save money on infrastructure and maintenance costs. As technology evolves and equipment depreciates, on-site business phone systems are not only expensive but also need to be upgraded on a regular basis. An onsite PBX phone system, for example, requires upfront costs for installation, equipment, service arrangements, as well as IT costs for ongoing maintenance and troubleshooting.
However, a cloud communication system is free of these costs because they are hosted by a service provider. Companies can say goodbye to upfront equipment costs as well as hiring in-house IT personnel. What's more, your clients will also save on monthly phone line charges.
2. Customers want remote control.   
One of the main benefits of having a cloud-based business phone system is that your clients receive remote access. Having remote access is ideal for companies with more than one office location and for those that have remote employees.
Working from home is more common than ever before and a remote workforce requires remote control. With cloud communications, customers can communicate with teams and clients no matter where they are with their IP phone or softphone app. This means that they also have access to critical business software while on the go. With a communications system in the cloud, companies can run operations smoothly while providing a consistent presence regardless of the environment.
3. Businesses want reliable phone systems.
Internet downtime costs SMBs a lot of money and chances are your clients have already experienced an outage or two. With the cloud, businesses don't have to worry about power outages affecting operations and sales ever again. Cloud-based communications platforms are reliable due to geographic redundancy, having several servers in multiple locations so that even if there's an issue at a single data center, it won't impact service. This is important because even if there's a fire, storm or another disaster, a power outage in your client's location won't affect their ability to stay connected to teams and customers.
4. Customers want fully integrated communications systems. 
The cloud makes it simple for clients to pick and choose communications features beyond business phones. Today's small businesses want all of their tools and communications in one web-based application, which has been shown to help increase business efficiency and productivity.
For example, a fully integrated communications system can combine telephony, UC, collaboration and virtual call center features all in one platform. And the best part is that as new technology emerges, clients don't have to purchase new software or hardware to keep up with the times. Instead, cloud communication systems can automatically adapt and update.
Demystifying the cloud
Ultimately, relating your customers every day needs to the powerful concepts the cloud can offer will strengthen your relationship.  For some SMBs, moving their phone systems to the cloud will be their first step in moving technologically forward – putting the power for growth in their hands and yours.
Want to learn more about Broadvoice? Click here to see your local Broadvoice channel contacts and learn a bit more about us.
Posted on: April 19, 2019 By: CNSG Marketing
By: GAETANO DINARDI of Nextiva
Work remote often? We've got you covered with 25 of our favorite working from home tips for you to implement into your daily routine. Working from the comfort of your couch, home office, or bed, offers flexibility and work-life balance that most professionals desire.
After all, who wouldn't want to work whenever they wanted, on the couch in front of the TV in their PJs with a laptop?
Spend more time with their children?
Or have more home time in general?
Although working from home seems like the ultimate luxury, most professionals forget about one crucial element: productivity. Working from home is great, but it can be a real drag if you struggle with staying productive.
So, Here Are Our Top 25 Working from Home Tips
1) Build a Permanent Work Space
The first step in your "work from home" journey is to designate an area of your home specifically for work.
This could be an empty or spare bedroom that you convert to a home office. If you are pressed for space, you can set up a desk for your computer and office supplies.
Regardless of space or location, establish an area of your home where you will work, and commit to working in this space every day. Be sure your work space is comfortable (especially in any season) and enjoyable, and where you can work quietly when needed.
Related: 33 Ways to Improve Work Performance (+Bonus Tips for Managers)
2) Invest in Technology
Yes, setting up a home office or work space may require a small investment. Much like starting a new business, you may have to purchase technology, such as a desktop, laptop, tablet or phone system to do your job every day.
Depending on the nature of your work, you may also need to purchase applications, hardware, and/ or software. Our recommendation?
Invest in whatever you need to comfortably and easily do your job.
3) Invest in Comfortable — and Functional — Office Furniture
You may also need to invest in office furniture, if you haven't already. Depending on the amount of space available, consider purchasing a large desk, bookshelves, and a comfortable office chair.
Remember, the point is that you will be working in this space every day.
So, be sure to purchase comfortable and functional furniture, including ergonomic furniture or equipment, if needed.
4) Set "Work Hours"
Now that you have your office or work area set up, it's time to get down to business — literally. If you are going to make working from home an everyday affair, then set specific business or work hours.
The beauty of working from home is that you can be flexible in setting your own working hours. For example, if you are most productive in the morning, or if you need to get the kids off the bus at 3:00 pm, then you may want to set your work hours from 7 am until 3 pm.
Regardless of your schedule, be sure to establish set work hours to follow each day. Be sure to also communicate your work schedule to colleagues, staff, and your boss, if you have one.
5) Avoid "Work Creep"
Some people believe that a work from home career can be invasive in your personal life. This is because if you are constantly home and near your work, then your work will begin to creep into your home life. Yes, the risk is real, but only if you let it…
This goes back to setting work hours. By setting specific work hours and sticking to them each day, then you can manage a healthy work schedule. When your work day is over, whether that is at 3, 4, 5 or 6 pm, shut your laptop and shut your office door and leave it behind until the next day.
6) Discover Your Peak Productivity Periods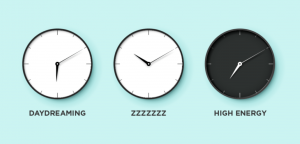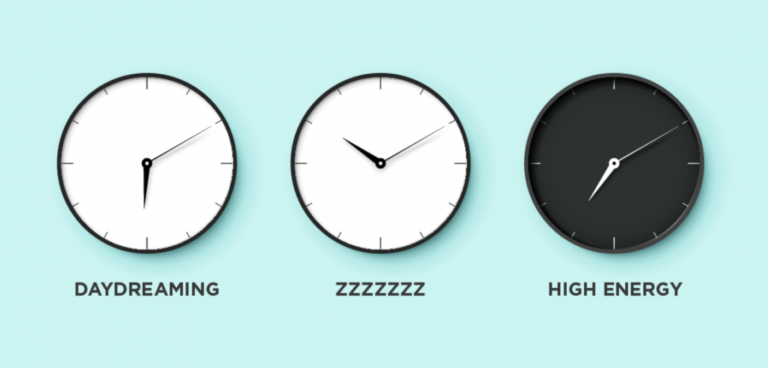 Every individual and professional is most productive at different times of the day. For example, some individuals are "morning people" and they are most productive, alert, and focused during the morning hours. Others are more productive in the afternoon and evenings.
The point here is to discover when you are most productive and build your work schedule around your peak productivity periods. (More tips on this point to come later in this article.)
7) Make To-Do Lists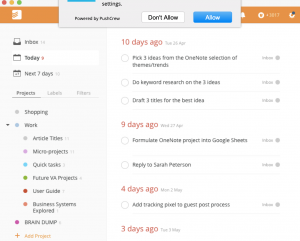 When you work from home each day and you don't have a boss breathing down your neck, it can be challenging — and sometimes overwhelming — to keep track of what you have to do each day. It's easy to lose sight of priorities, tasks, deadlines and even the little things.
In order to stay on task, quickly write down all the things that need to get done at the start of each day. If your list is quite lengthy, then set goals and time limits for accomplishing each task. After you complete each task, cross it off the list. This simple technique is both effective and fulfilling.
8) Use a Planner
In addition to making to-do lists, get into the habit of using a calendar or planner. For example, if you work from home some days but you are on the road others, get in the habit of using a planner to write down and keep track of deadlines, appointments, and meetings.
9) Use Task Management Apps
If you aren't a "write-it-down" to-do list or planner person, don't worry—there are plenty of digital calendar and task management apps available that can still help you.
Some top task management and calendar apps include:
Most of these apps offer both web-based and mobile versions, so you can download them to your phone. Some can even be integrated with other apps, such as Slack for team collaboration. And the best part? Most of these apps offer a free version.
10) Don't Work in Your PJs
We know — this is one reason why people love working from home. If you love working in your PJs, then you are probably killing your productivity.
Even if you don't have to leave the house, make it a point to set a morning routine and stick to it. Therefore, when you are ready to sit down to work, you will be mentally and physically prepared for the day.
11) Don't Work in Front of the TV
This is another productivity killer. Although you might treat "working from home" as really a "day off" that involves your couch and Netflix, glancing at your laptop from time to time, making this a habit will not get you very far.
Again, as mentioned above, treat your work day as just that: a work day. Avoid the TV and other distractions so you can focus on your work and getting things done. If you need the TV on as background noise, then do so, but avoid looking at it every few minutes. If you find that the TV is distracting you, shut it off and try listening to music or using a sound machine instead.
12) Stick to a Morning Routine
Another enjoyable perk of working from home is not having to get up, rush out of the house, and commute to an office. However, working from home doesn't mean you get to skip your morning routine altogether. You should still set an alarm, get up early, take a shower, grab coffee and breakfast, and prepare your lunch, just like you have to leave the house.
13) Set an Alarm
Even if you don't have to be up as early to leave for the office, you should still set an alarm and commit to getting up at a certain time each day. This will prevent you from sleeping in too late, and will keep you on a healthy sleep schedule.
Human beings are creatures of habit. We are incredibly dependent on routines, schedules, and structure. Therefore, by setting an alarm, following a strict morning routine, and setting specific work hours you will be healthier, more focused, more alert and more productive. Remember, a healthy body is a healthy mind.
14) Exercise
If your day allows, take a lunch break and go for a walk, go to the gym or stretch. Exercise naturally boosts endorphins, which increase happiness, enjoyment, and interest levels, all of which are important for productivity.
If you are an early-morning jogger or gym-goer, then work that into your routine each day. And, if you want to make exercise a habit, or become an early-morning exerciser, but struggle with getting out of bed, set an alarm across the room so you are forced to get up out of bed to shut it off. You can also leave yourself motivational sticky notes by your bed, so they are the first thing you see and read in the morning.
15) Eat a Healthy Lunch or Snack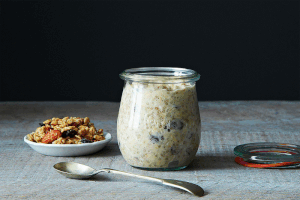 Another work from home reality is that we have full access to the kitchen. So, when it's time for lunch or a snack break, we are immediately drawn to the usual snacks, such as chips, chips, cookies or leftover pizza. When we work in an office, we are at the mercy of whatever is available in the cafeteria or whatever lunch we brought from home.
However, research has shown that eating fruits and vegetables has a direct link on overall productivity levels. If you are an avid snacker, then make it a point to make yourself a healthy lunch, just as you would if you had to go into an office. You can also avoid buying unhealthy snacks altogether.
You can also reward yourself with a sweet snack on Friday after a long, successful, and productive week.
16) Take Short Breaks
Although we have focused most of this article on how to stay productive while working from home, sometimes the opposite can happen. We think that by working from home we will be able to get more done because there are less distractions. Therefore, sometimes we end up over-committing and working too much, which also kills productivity.
You can easily avoid this by working short, five-minute breaks into your daily schedule, or even make them a part of your "rewards system". Although taking breaks might seem counterproductive, research has shown that taking short breaks can actually increase productivity and creativity levels.
17) Use a Rewards System
We mentioned using a rewards system in the point above. This is an easy way to help you get things done — even the things you have been procrastinating or putting off.
For example, take a five-minute break to go for a stroll through your neighborhood, grab a healthy snack, take your dog to the park down the street, or switch over the laundry once you finish a phone call or complete a difficult task or deadline.
Although it seems simple, using a basic rewards system will help you get things done and also feel fulfilled.
18) Do Use Productivity Apps
If you struggle with staying on task while working from home, even if you have already tried some of the tips above, then you may need to kick things up a notch and use a productivity app.
For example, some productivity apps will track the amount of time you spend on each task, and even minimize distractions. Some examples of these types of apps include the following:
Even if you work for yourself, and you do not need to report time to a manager, using a time tracker app will help you see your productivity levels each day and week. This will not only provide you with insight as to when you are most productive during the day, it will also show you how much time you spend on each task.
If you are spending too much time on a particular task, or more than what is necessary on repetitive tasks, then it may be time to look into some automation solutions for even more productivity!
19) Stay Off Social Media
I think we can agree that we are ALL guilty of this one from time to time — or every day. Social media can be a giant time suck if you aren't careful. In fact, studies have shown that the average adult spends nearly nine hours per day on social media.
That is more time than most people spend sleeping or working! Furthermore, according to an article recently published by CNN, Facebook and Instagram now reveal to users how much time they spend in each app.
If you are a social media addict, then make it a habit to shut off social media notifications during the day, if possible. This will help avoid distractions, so you can focus on getting more done.
20) Listen to Music
Okay, so you shut off social media and the TV, and you are sitting at your desk and focused on your work. But, now it's too quiet.
Listening to music while you work can help boost productivity levels and even enhance creativity.Even if you aren't a huge music fan, studies have shown that listening to soft, classical music while you work can help improve focus.
Check out this afternoon energy boost playlist on Spotify >>>https://open.spotify.com/playlist/0Vjhah37el0Aq5yoRaujBz
21) Leave the House
You just invested time and money in setting up a designated work space or home office, and now we are telling you to leave the house? Yes and no.
Leaving the house on occasion can give you a change of scenery, which can help boost creativity and productivity. If you need a slight change of pace, try working in your backyard or at a nearby coffee shop.
22) Use Video Chat
Interact with others! Working from home every day can get pretty lonely, especially if you are single or live alone. Make it a point to chat with colleagues, team members, or clients each day.
Video chat is a great way to stay connected with other human beings. There are also a number of video chat applications available today, such as:
Skype
Zoom
UberConference
Google Hangouts
Depending on the nature of your work and your position, you could end up spending almost all of your day on calls. If you spend a lot of time on the phone or in video conferences each day or week, then set aside time in your schedule each day for calls or video chats.
23) Use Your "Lunch Break" for Errands and Appointments
If you work from home each day, then you have a ton of free time to do what you want and go where you want, right?
Maybe, but we don't recommend that. Structuring your day is important. If you need to run errands, or schedule the occasional doctor or dentist appointment, try to schedule them for your "lunch break", just as you would if you worked in an office.
24) Avoid Family, Friends, and Pets
This can be difficult, especially if you have young children at home, or have multiple pets, all of whom want your attention. If you are home all day, every day, then family and friends might think that they can show up whenever they please.
Of course, you probably welcome and enjoy the company, it's important to remember that this is your work time. Be sure to set and stick to specific work hours and clearly communicate those hours with your family and friends.
25) Create a Vision Board
If you have been working from home for several years, and have mastered most if not all the points above, then you working from home might be becoming boring, dull or stale. You might struggle with sticking to your schedule, or enjoying your work.
If this sounds all too familiar, then it might be time to take a step back, re-evaluate your business or work, and then approach it from a different angle.
A vision board can help. A vision board is just that: a board that you can use to write notes and post pictures of your dreams and aspirations. The visualization aspect of a vision board is a great and powerful mind exercise. It can help you feel the way you want to feel. This could help you get out of your work from home slump, and pave a new, clear path to productivity and success.
Start putting these working from home tips into effect today to streamline your routine and increase your productivity.